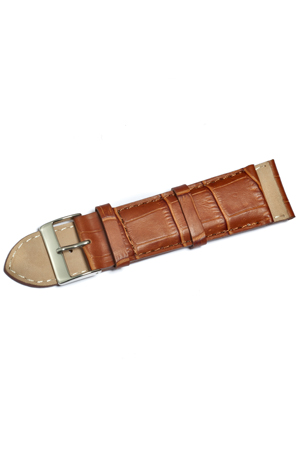 Benson
Kalfsleder Lichtbruin S 18mm
Benson watchstraps have been made of high quality leather which guarantees a long service-life, and so you will enjoy your strap for a long time. The flexible leather offers very much personal comfort and it is weather-proof and able to resist perspiration. There are Benson watchstraps in several colours and sizes. Every strap has a perfect finishing off and can be attached to your watch at once. As a practical accessory you may choose for a folding-closing. A folding-closing is a luxury closing which makes opening the strap easier. Benson folding-closings are applicable to all leather watchstraps.
Official dealer
BensonTrade is official dealer of many brands.
Free shipping
Your order will be shipped for free within The Netherlands.
30 day trial
Tryout your watch or watch winder for 30 days? No problem!
Discount system
Save between 5% and 12,5% on your next order!
Show shipping rates for:
Free via DPD (1 business day)
€ 7 insured via DPD (1 business day)
Delivery time
1 to 3 business days
product properties and specs
Specifications
Extra:
Lichtbruin stiksel
Gesp:
Yes
Buckle:
Yes
Remark:
S model: zelfde kleur stiksel
Material:
Leather
Color:
Brown
Size:
18 mm
Review by Dhr. F. Leurs from Breda
Submitted on: 24-8-2015 at 7:39 PM
Order date: 16-8-2015 at 3:28 PM
Review by Dhr. E. van Gendt from Bennekom
Submitted on: 3-12-2014 at 10:21 AM
Order date: 26-11-2014 at 2:37 PM
Review by Dhr. L. Brandts from Ermelo
Submitted on: 4-6-2014 at 6:47 PM
Order date: 25-5-2014 at 10:55 AM
Review by Mevr. F. Geurts- Driessen from st. Hubert
Submitted on: 22-5-2014 at 2:39 PM
Order date: 18-5-2014 at 11:45 AM
Ik heb het bandje er zelf op gezet wat niet zo lastig was. Mijn horloge ziet er nu mooier uit dan hiervoor. Ik bestelde het bandje en de volgende dag had ik hem al:)
Review by Mevr. V. Rozenboom from Wassenaar
Submitted on: 14-2-2013 at 7:46 PM
Order date: 10-2-2013 at 10:05 PM
Review by Dhr. T. Smolders from Groesbeek
Submitted on: 17-8-2012 at 10:14 PM
Order date: 14-8-2012 at 11:50 AM
Mooie bandjes hebben jullie! En betaalbaar en snel.
Review by Dhr. F. Josefzoon from Amsterdam
Submitted on: 19-4-2012 at 3:04 PM
Order date: 16-4-2012 at 8:18 PM
Review by Dhr. P. van Schaijk from Veenendaal
Submitted on: 2-2-2012 at 9:10 PM
Order date: 30-1-2012 at 7:33 PM
Het geleverde bandje had een haakje los van het stiksel. Dat mag natuurlijk niet zo verzonden worden. Na mijn melding kreeg ik wel de volgende de dag al een nieuwe band (de andere heb ik terug gezonden). Jammer van de eerste poging, maar wel snel en goed opgelost door Bensontrade.