Benson Swiss Series watch winders
The Dutch watch winder brand Benson launched its Black Series watch winders in 2016, which are currently among the best watch winders in this price range. The brand offers all kinds of advantages over other brands, whereby the price/quality ratio is especially unique. Benson watch winders offer all the functions you need to wind an automatic watch, regardless of brand or type, so that it no longer comes to a standstill.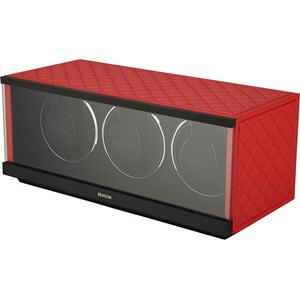 The Benson Black Series watch winders have been a great success since the introduction. With more than 250 sales points worldwide, these watch winders are sold by the best jewelers and web shops. In addition, Benson produces watch winders for various well-known Swiss and German watch brands. The success of the Black Series means that Benson has looked at what else might interest automatic watch enthusiasts. The answer is simple, a watch winder with Swiss technology for lovers of Swiss made watches. This gives you a perfect match between a watch winder with Swiss technology and watch brands of Swiss origin such as Rolex, Breitling, Omega, Oris, Tag Heuer, IWC and many others.
Switzerland is known as the watch country pur sang. However, they also produce excellent motors in Switzerland that are used, for example, in watch winders. Well-known brands that use Swiss engines are Swiss Kubik, Bernard Favre and RDI. Benson is now also in this list with the new Swiss Series of this Dutch brand.
The Benson Swiss Series watch winders use Swiss motors and mechanical technology. These motors are extremely strong, durable and virtually silent. That is why Benson gives a 3-year warranty on its Swiss Series watch winders. The Swiss motors offer the user the possibility to wind their watches in 9 programs. Naturally, all directions of rotation (right, left and alternating) and the most common TPD (turns per day) were chosen so that all automatic watches can be supplied with energy. This makes the Benson Swiss Series watch winder suitable for all watch brands.
The watch winders operate on mains power via the supplied adapter and have a very low energy consumption. The watch winder can also function on batteries. The watch winder can function for up to 6 months on a set of batteries. This is ideal if you want to put the watch winder in a safe or take it with you on a trip.
The watch holder on which you place the watch is made of soft material and bends with the shape of the watch. The watch holder can be adjusted in terms of the size of the watch and the wrist size. This makes it easy to place all kinds of watches on the watch holder. The watch holder with the watch is easily clicked into the watch winder so that it is securely in place. This prevents the watch from falling out, which can happen with a watch winder with cushions or loose watch holders. The safe winding of your automatic watches is very important to Benson.
The design of these watch winders is modern, stylish and compact. The Benson Swiss Series come in four variants in terms of capacity, a watch winder for winding one automatic watch, a model for two automatic watches, a model for three automatic watches and a watch winder for winding four automatic watches. There are various variants of all models in terms of material and color. The watch winders are available in wood and real leather. This leather has a special finish and is stitched by hand for a beautiful optical effect. The watch winder with leather version is available in the colors dark brown and light brown. In addition, various Limited Editions will be available. Only 250 pieces of these limited models are produced per model. Each watch winder is individually numbered, made of leather and available in blue, white, green and red.
Benson has chosen the best materials for its Swiss Series; Swiss motors, a high-end display, mineral glass, original leather and stainless steel. Quality and durability are central to the Swiss Series watch winders. The beautiful finish and high functionality make these watch winders very complete.
Each Benson Swiss Series watch winder is handcrafted in the Netherlands. This is done during an extensive procedure in which functionality and quality are tested. The watch winders come with a 3-year warranty, certificate and manual. The watch winder is packaged including adapter in a nice package.
Read more >>Posted on 31 October 2020 at 7:39 AM