Posted on 28 September 2020 at 11:22 AM
The Dutch watch winder brand Benson is active worldwide and one of the larger players in the field of watch winding technology for automatic watches. The brand combines excellent winding properties with attractive designs and an attractive price level. The nice thing about Benson watch winders is that they offer different models with different price levels. As a watch enthusiast, who is looking for a good watch winder to wind your automatic watches, you always succeed at Benson.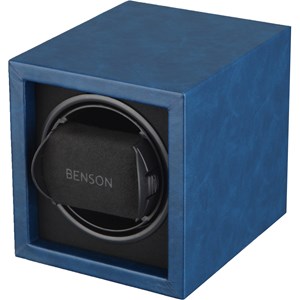 The collection of Benson watch winders has the Compact, Smart-Tech II and Black series. The Compact watch winders of the brand are the entry-level models for those who are looking for a good watch winder but do not want to spend hundreds of euros on a watch winder. This watch winder model actually offers everything you need.
The Benson Compact watch winders are distinguished by their compact and modern design. The technology is formed by a solid Japanese motor from Mabuchi. The control panel is an LCD screen with which you determine the direction of rotation and the number of revolutions per day. You can turn the automatic watch clockwise, counter-clockwise and alternately in both directions. In addition, you can wind the watch at 600, 900, 1200, 1500, 1800 and 2100 revolutions per day. This combination of selectable direction of rotation and number of revolutions per day allows you to wind up literally any automatic watch, regardless of brand or model, quickly and safely. It doesn't matter whether your watch is Breitling, Omega, Tag Heuer, Oris, Omega or IWC.
The Benson Compact watch winders are available for 1 and 2 automatic watches. With the model for 2 watches you can operate and set both rotors individually. So you can wind two different watches at the same time. You can also wind a watch and leave the other rotor stationary. The advantage of the Benson Compact watch winder for 1 watch is that it also works on batteries. This allows you to easily place the watch winder in a place of your choice without needing mains power nearby. You can also put the watch winder in a safe or take it with you on a trip or vacation.
Another important advantage of all Benson watch winders is the flexible watch holders. These are very wide and suitable for any type of watch, large or small. You can easily place both men's and women's watches on the holder, after which you click it into the watch winder. As a result, the watch is safely fixed in the watch winder and it cannot fall out of course.
The watch winders from the Compact series are available in different colors. Prices start at 169.00 euros (incl. VAT). This is a very competitive price for a watch winder that offers everything you need to provide an automatic watch with energy. Naturally, an adapter and manual are included and the watch winder will be delivered well packaged.