Posted on 28 May 2019 at 2:10 PM
Boda Concept watch winders may be a relatively new brand within the watch winder market, but the brand is absolutely interesting for the true watch enthusiast. Boda Concept offers high quality watch winders with a luxurious and professional appearance. The watch winders from Boda Concept are made from beautiful materials such as wood, carbon, glass and stainless steel. A watch winder from Boda Concept not only ensures that you can provide your watch(es) with the required energy, but also that you can store it safely and in style.
The most popular model from the Boda Concept collection is the D12 watch winder. This watch winder is equipped with quiet Japanese motors and is suitable for all brands of automatic watches. The watch winder offers space for 12 watches. The direction of rotation and the number of revolutions per day can be individually adjusted for each watch. The watch winder is also equipped with a touchscreen and LED lighting. The LED lighting gives a beautiful sight when the watches turn around in the light. The beautiful carbon look makes the Boda Concept D12 watch winder a stylish eye-catcher in your interior.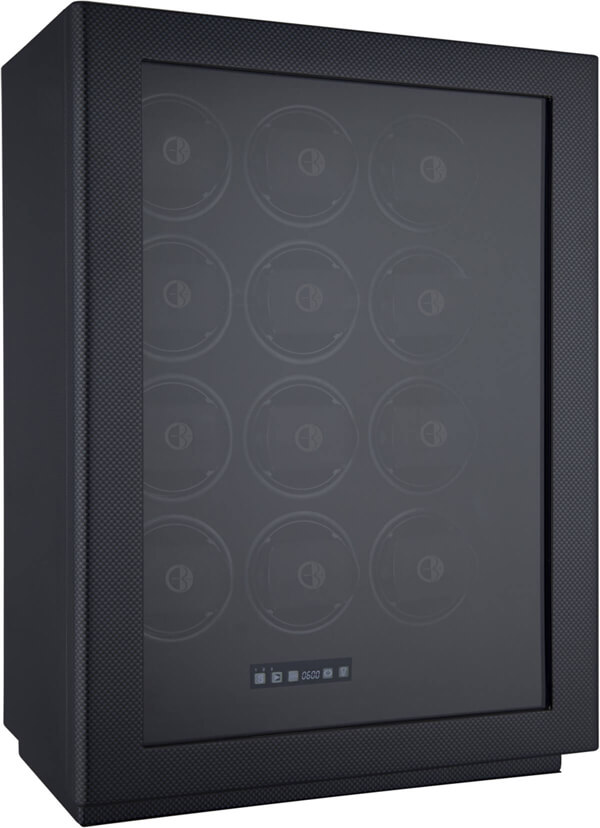 We find Boda Concept watch winders an attractive brand because they offer a lot of quality at an acceptable price level. The technology inside the watch winder is modern, which means that the automatic watches are wound very effectively. The high end touchscreen not only looks very nice, it is very handy to use to individually set each rotor. As said, the Boda Concept D12 watch winder is the largest and most popular model in the collection. It is a watch winder that is really meant for watch lovers and collectors. Do you want to wind up your watches in a very beautiful way? Then the Boda Concept D12 watch winder is a great choice!