Posted on 27 September 2021 at 3:28 PM
The most popular watch brand in the country is located on the Italian island of Elba. We are talking about the Locman watch brand. Locman offers watches of excellent quality with high technology, in combination with the well-known Italian class and style. Locman knows how to distinguish itself from other watch brands in various ways. The brand is known for the vibrant use of color in the designs of the watches. This allows you to make a real statement with a Locman watch on your wrist.
The characteristic designs of the Italian brand are appealing and often function as a real eye-catcher. In addition, Locman offers watches with both automatic and quartz movements, so that there are sufficient options within the collection for every personal preference. In addition, the brand is known for the use of high-quality materials such as carbon fiber and titanium. Carbon fiber is extremely strong and has a sporty and modern look. Titanium offers the great advantage that it is very lightweight, so that the Locman watches are very comfortable to wear. Locman also knows how to offer diversity with its collection. There are models with watch straps made of rubber, leather and stainless steel. This means that the different watches immediately get a completely different look. This, in combination with the different types of timepieces, makes Locman attractive to a wide audience.
When you have discovered a watch brand that fits well with your personal preferences, you will of course be very excited when new models are added to the collection. This also applies to us as an official dealer of Locman. We are therefore very enthusiastic about the addition of several new Locman models to our range. These are new Locman Montecristo watches. Montecristo is the most popular design and can also be called the showpiece of Locman. We would like to make you as excited as we are about these brand new models from Locman. We will therefore take a closer look at 2 models of these Montecristo designs, to get an idea of ??what the new Locman models have to offer.
We start with the Locman Montecristo 41mm 0542A01S-00BKORSO watch. This is a very nice example of a watch with a colorful look. Both the rubber watch strap and the accents on the black dial are in the color orange and therefore very striking. The watch case is made of a combination of stainless steel and titanium and has a diameter of 41 mm and thickness of 14 mm. This watch has a quartz movement and is water resistant to 100 meters. By using sapphire glass, you don't have to worry about scratches or other damage. This watch closes with a folding clasp. Also technically this is a nice complete watch. This model offers a seconds hand and a date display, but you also have luminous indicators and a chronograph function at your disposal.
A second model that we would like to explain is the Locman Montecristo Carbon 0544C09S-CBCBWHSB watch. This watch is also made in a striking color, namely clear blue. We see this color reflected in the watch strap and as an accent on the dial. The watch strap is made of rubber and closes with a folding clasp. Furthermore, the watch case is made of carbon fiber, which makes the case extremely sturdy. This case has a diameter of 41mm and a thickness of 14mm. With a high-quality automatic movement and a water resistance of 100 meters, this watch is suitable for intensive use. This watch also uses strong sapphire glass. Looking at the technical aspects, this watch offers a date display, second hand and luminescent indicators. So again a complete picture.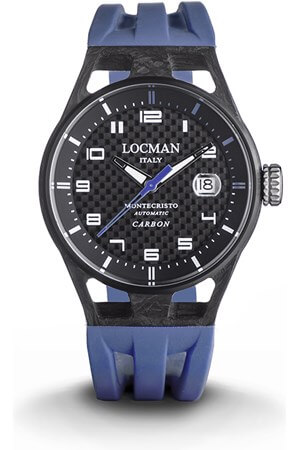 In addition to the above 2 models, we offer a large number of new Locman Montecristo models from different series in our webshop. Here you can find many watches that make full use of striking colors, but if you prefer to wear a more neutral watch, there is also plenty to choose from. In addition to the new Locman models, we currently also offer a number of beautiful watches with an attractive discount. Two very good reasons to take a look at our webshop.
When you choose to order a Locman watch from us, you can do this with a safe feeling in our webshop. You can pay quickly and easily with iDeal, Paypal or credit card. Would you like to purchase a Locman watch that you cannot find in our webshop? That's no problem at all! As an official dealer, we can supply every Locman watch from the collection for you. Whichever Locman watch is your favorite, we are happy to deliver it to you.