Posted on 27 January 2022 at 12:48 PM
For many watch lovers, a Swiss watch is a symbol of quality, durability and luxury. After all, Swiss made watches are known to be very reliable and solid and to have a particularly beautiful finish. In addition, the Swiss made label stands for craftsmanship and expertise. This is reflected in well-known brands such as Rolex, IWC and Breitling.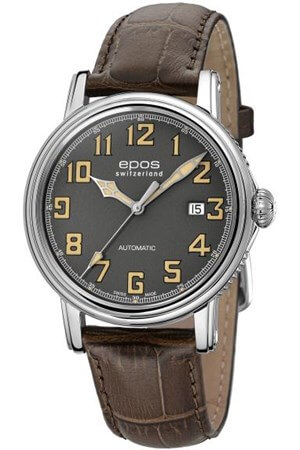 With a Swiss watch you wear a true piece of jewelry on the wrist that completes your outfit. Switzerland has several beautiful watch brands that are absolutely worth delving into as an enthusiast. In addition, some brands offer just that little bit extra, for example through a rich history or a beautiful story.
In this article we would like to introduce the Swiss brand Epos to you. Epos is a brand that was founded in 1925 and has therefore been active in the watch industry for almost a century. This makes Epos an interesting brand for lovers of a piece of history when it comes to beautiful watches. The brand is characterized by the well-known high Swiss quality, technical refinement and a stylish design. Moreover, compared to various other Swiss watch brands, Epos is a relatively small brand, which ensures, among other things, that extra attention is paid to quality and finish. This makes Epos watches extra interesting.
When Epos was founded, it was decided to focus on developing watches with a mechanical or automatic movement. Even today, Epos opts for the use of this type of timepiece, in which the hand of the craftsman is most clearly visible. Of course, the aforementioned Epos timepieces come from Switzerland, from the ETA and Sellita brands. The eye for detail of the brand can be seen, among other things, by the sublime finish of the movements with Côtes de Genève and blue screws.
Within the Epos collection there is a wide choice of watches which are provided with beautiful details with a luxurious and classic look. In addition to the more classic models, Epos also offers sporty watches. Characteristic of this type of watch from Epos are, among other things, the fact that they are easy to read and generally offer a very good water resistance.
We would like to highlight two classic Epos models for you in this article. We start with the Epos Emotion 3390.152.20.34.30. This watch is fitted with a stainless steel strap. The watch case is also made of stainless steel and has a thickness of 9 mm and a diameter of 41 mm. The dial is gray in color with gold accents. With regard to the glass, the extremely strong sapphire crystal has been chosen for this watch. This has the great advantage that scratches will not be visible quickly and you will keep your watch as new for a long time. The Epos Emotion 3390.152.20.34.30 is equipped with an automatic movement from the Swiss brand ETA. Furthermore, this design offers a date display and a so-called 'see through back case', with which you, as a true enthusiast, have a good view of how your watch is working for you. Finally, this watch is water resistant to 50 meters and closes with a folding clasp.
A second model from the Epos collection that certainly deserves our attention is the Epos Emotion 3390.152.20.20.30. This design also has a watch strap made of stainless steel. The watch case is also made of stainless steel and has a thickness of 9 mm and a diameter of 41 mm, just like the aforementioned model. The dial of this watch is white with blue accents. Of course, this watch is again equipped with a Swiss made timepiece, also from the ETA brand. The strong sapphire glass has also been used for this watch. This model offers a date display and a seconds hand and the transparent bottom as icing on the cake. Finally, this model is waterproof up to 50 meters and closes with a folding clasp.
We have now only mentioned two models from the niche brand Epos, but there is much more to choose from within the collection. This brand also offers watches with leather or rubber straps. In addition, there are models in the collection that are waterproof up to 500 meters and are therefore ideally suited for the real sportsman. Epos knows how to appeal to a wide audience like no other.
In our webshop you will find an extensive range of Epos watches. As an official dealer of this authentic brand, we can also supply you with Epos watches that you cannot find in our webshop. You can always contact us for this. When you decide to order an Epos watch from us, you can be sure that you are choosing a watch that works perfectly. Every watch from this brand is extensively tested after production before it is delivered. In addition, we offer you a 2-year warranty on your purchase of an Epos watch.