Posted on 2 March 2021 at 4:36 PM
Have you ever heard of the Dutch watch brand Van Speyk? This brand has been producing very beautiful watches for over 10 years. If you haven't heard of this watch brand yet, then it's time to read this blog article.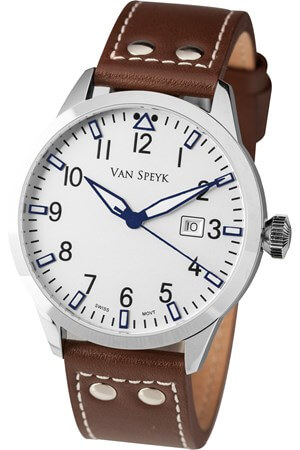 Van Speyk owes its name to Lieutenant Jan Carel van Speyk. This legendary hero of Dutch history was born in 1802 and after following training as a tailor, unexpectedly ends up at sea as a lieutenant. The ship he sailed was raided by Antwerp insurgents and instead of surrendering, Van Speyk decides to blow up the ship and with it himself. Since then he has been seen as a national hero. By choosing the name of the brand, the Speyk watch brand shows that it is proud of the Netherlands and the Dutch identity. Van Speyk originated as a partnership between entrepreneurs. They wanted to market new watches that could add something to the existing watches.
With a Van Speyk watch you automatically choose a good quality watch that is equipped with an automatic movement or a quartz movement. With a watch with an automatic movement, you have a watch that best symbolizes the old craft of watchmaking. Van Speyk is able to emphasize this once again by using a glass bottom for various watch models. With a quartz watch you have a watch that works on battery, with the advantage that it is more resistant to shocks and bumps and is more accurate than an automatic watch. So it has both its advantages and it just depends on what you prefer. Whichever variant you choose, with a Van Speyk watch you always go for quality and buy your watch for an attractive price. After all, Van Speyk is not only a high-quality watch brand, but also very affordable.
We distinguish different series of watches in the van Speyk collection. The Dutch Diver series was introduced in 2015. This series of watches is entirely designed and manufactured in the Netherlands. The watches from the Dutch Diver series are equipped with an automatic movement of the brand Miyota (Citizen). The Dutch Diver watches are also equipped with a stainless steel strap, which gives it a tough look. Watches are available with different colored dials, such as black, white, brown, blue and gray. Also characteristic are the well-arranged dials with a clear display. Only high-quality materials have been chosen, such as sapphire glass and stainless steel. The watches are waterproof up to 200 meters and have several nice extra functionalities. Examples include a rotating bezel, screw-down crown and luminous indicators. The watches in the Van Speyk Dutch Diver series close with a folding clasp.
A second beautiful series from the Van Speyk collection is the Holland series. These watches have a more classic look than the watches from the Dutch Diver series. Characteristic are the beautiful leather black and brown watch straps and the stylish dials, often in black or white. The watches also have a Roman index and a beautiful glass back. The latter gives you the opportunity to see your watch at work. We also see nice extra functions such as date display, a day/night indicator and a moon phase. The eye for detail is also striking, just look at the blue screws used for the timepiece, the relief accent on the timepiece and the van Speyk logo on the rotor, strap and watch case. The watches from the Van Speyk Holland series close with a buckle clasp and are waterproof up to 50 meters.
The third series of Van Speyk watches that we want to bring to the attention is the Dutch Pilot series. This series consists of traditional designs. With the Dutch Pilot series, Van Speyk combines a stylish look with the features of an original pilot's watch. These watches have a Swiss quartz movement from the Ronda brand, which stands for absolute quality. Characteristic of these watches is also the good readability, with a watch case of 45 mm. Again, only high-quality materials have been chosen, such as stainless steel and strong sapphire glass. Furthermore, the watches are waterproof up to 100 meters and close with a buckle clasp. This series of watches also has nice extras to offer. For example, we mention Superluminova, a stopwatch function, luminous indicators and a nice chronograph function. Here too you will find the Van Speyk logo on the watch strap and the back of the watch case.
In short, with a Van Speyk watch you are assured of a beautiful and high-quality watch that will certainly attract attention. The eye for detail, beautiful extras and accents make these watches unique in their kind. Add to that the attractive prices and this makes Speyk an interesting brand for every watch enthusiast. Moreover, Van Speyk knows how to appeal to a wide audience due to the variation in appearance, properties and timepieces of the different watch series.
BensonTrade is an official dealer of Van Speyk. This means that we only supply original watches with a minimum of 1 year warranty. Each watch is neatly packaged in a chic watch box with manual. Quickly view the current Van Speyk watch collection because many models are already sold out. All watches on our website are discounted and only in stock to a limited extent. Do not wait to long!