Posted on 3 February 2023 at 3:06 PM
Are you looking for a special watch of excellent quality? A watch that not everyone wears on their wrist, but that has a unique and unique look? A watch that expresses character and personality? Then it is definitely worth reading this article for you! Today we pay extra attention to a unique watch brand from Germany. We are talking about the timeless and innovative brand MeisterSinger.
MeisterSinger knows how to interest almost every watch enthusiast with its watch collection, by offering a combination of class and style, technical finesse and a unique identity. MeisterSinger's own signature can be recognized by the unique one-hand time display that the brand uses. Manfred Brassler, the founder of the brand, had a vision all of his own when he founded MeisterSinger. His ambition was to start a watch brand that went back to the beginnings of watchmaking. This translated into the designs of today. Watches that have the aesthetics and fascinating look of the old measuring instruments of the times gone by. The essence and simplicity in MeisterSinger's designs are therefore clearly recognizable. MeisterSinger watches are also characterized by the strongly curved glass and a unique index.
For MeisterSinger, it's not the minutes and seconds that count, but the moment. The MeisterSinger watches with one hand display want to help us to deal more calmly with time and thus live more in the moment. Another important pillar in the production of MeisterSinger watches is innovation and progress. For example, MeisterSinger developed the MSH01 in 2016 with a power reserve of no less than 120 hours. This timepiece was the first ever to be awarded the Red Hot Design Award and the German Design award. MeisterSinger can also call itself the brand that has received the most design Awards.
A particularly beautiful watch from the MeisterSinger collection is the MeisterSinger Circularis CC908LG watch. In our opinion, this watch stands out as one of the most interesting models of the brand. This is a fine example of the simplicity and essence in a watch model, as envisioned by Manfred Brassler. This watch is adorned by a beautiful watch strap in a classic brown color, made of particularly beautiful crocodile leather. The watch closes with a folding clasp, which gives this design an extra luxurious look. The dial of the watch is dark blue in color and only features subtle details, including the single hand. The watch case is made of stainless steel and has a thickness of 10 mm and a diameter of 43 mm. Furthermore, it is equipped with an 18 carat gold bezel, which further emphasizes the elegant appearance of the watch. Because this watch is equipped with the well-known and very strong sapphire glass, scratches don't easily get a chance and the watch stays beautiful for an extra long time.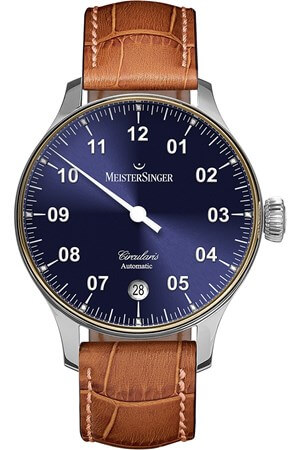 As for the movement, the MeisterSinger Circularis CC908LG is equipped with an automatic high-quality movement, also known as the MSA01. It has an excellent power reserve of 120 hours. A date display is also visible on the movement of the watch, for a nice complete picture. With the MeisterSinger Circularis CC908LG you choose a watch with its own identity, which is suitable for both a classic business outfit and a modern casual outfit. With this watch on your wrist you will certainly attract attention, all eyes will be focused on this unique piece of jewelry. The philosophy behind the way of displaying time and the history behind the brand will interest every sincere enthusiast. In terms of quality and detail, MeisterSinger can compete with the very best brands like no other. This is clearly reflected in this specific model by MeisterSinger, including a piece of technical finesse, use of materials and appearance.
With a watch from MeisterSinger you always look good and stylish. At the moment we offer a number of MeisterSinger watches in our webshop, with a very attractive discount. You will also find the MeisterSinger Circularis CC908LG in this category, so you can now purchase this exceptional watch at an extra competitive price. Of course, the MeisterSinger watches in our webshop are all new and come in the original box. You will also receive your new watch with a clear manual and a 2-year international warranty. This way you always order with us with peace of mind. We only have a few pieces in stock of the various discounted watches. So don't wait too long and order your favorite MeisterSinger watch now with a nice discount, up to 30% of the official retail price.