The best dive watches in a row
Posted on 23 June 2018 at 7:47 PM
Choosing a good dive watch is not easy. There are so many brands, models and different prices. What do you have to pay attention to when you want to purchase a dive watch?
Our tips at a glance:
1) Determine which functionalities you find important. Would you like to swim, snorkel or dive with the watch? Or would you like to wear a diving watch because you like the design? When you are active and want to dive at a large(er) depth we recommend a watch with a water resistance of at least 300 meters / 30 ATM. This is enough to easily take the watch to great depths. Also make sure that it gives good light in the dark, otherwise it is difficult to see the time in the water. As a final tip we would like to say that a rotatable bezel (ring) is important so you can measure exactly how much oxygen you have left in your tank/bottle.
2) Determine your budget for the dive watch. There are dive watches in different price ranges. From cheap to extremely expensive. The price can affect the quality, so always pay attention to the type of movement, the brand of the movement, the materials, functions and finish. There are several good dive watches on the market for modest amounts, think of Van Speyk, Davosa and NauticFish. When you look in a slightly higher segment than are interesting watch brands Damasko, Glycine and Fortis.
3) Determine what you like. A watch is increasingly becoming a jewel instead of a timekeeper. It is a shame when you are loosing interest in the looks of the watch within a year. Look at what you think is beautiful now, but what you still like in 5 years. Timeless design is an important concept here. Damasko is a brand that is very strong in this. Contemporary, timeless and qualitatively very strong.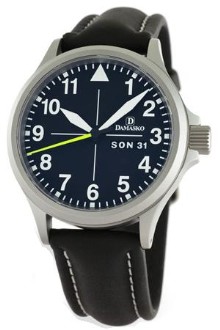 4) Buy the watch at a good shop that gives clear information and has enough choice to compare. Dive watches are not cheap and you can only spend the money once. Therefore choose a shop that has expertise and offers a clear guarantee. You better e-mail or call too many times to ask questions than to be disappointed later. BensonTrade is official dealer of all her watch brands and we have mentioned several brands of dive watches in this article. Each and every one of them is 100% in terms of quality, functionality and design. Although this last aspect is of course taste sensitive.
Good luck with your choice for a beautiful dive watch!