Posted on 31 July 2021 at 8:30 AM
A watch winder for 1 watch is the ideal accessory if you have one or two automatic watches. This watch accessory ensures that your watch never stands still again. Rewinding and setting the time and date is a thing of the past. If you use a watch winder, you not only save time, but you also ensure the preservation of your automatic watches. Especially when you have an automatic watch from an appealing brand such as Breitling, Omega, Tag Heuer, Oris, IWC or Patek, the use of a watch winder is recommended.
Watch winders are available with a different capacity. There are models available for one watch, but also models that are suitable for a whole collection of watches. In this article we want to focus specifically on watch winders that are suitable for 1 watch. As noted earlier, these models are particularly suitable for enthusiasts with 1 or 2 automatic watches. But it is also a great option if you are a starting watch enthusiast or if you have a smaller budget. A watch winders for 1 watch is generally very affordable and therefore a fantastic accessory for the real watch enthusiast who wants the best for his or her watches.
A watch winder for 1 watch offers several advantages. Most models for 1 watch are quite compact. This ensures that you can place a watch winder anywhere with little space in the house. In addition, it is easier to take a watch winder that has a more compact design with you to the office or, for example, when traveling. This means that a copy for 1 watch makes you very flexible in this area. All advantages that most models have to offer for 1 watch. Although these watch winders are generally very affordable, there are a number of watch winder brands that stand out in this area. They offer an extra good price/quality ratio. A good example of such a watch winder brand is the Dutch brand Benson. We will take a closer look at a functional and also high-quality watch winder from this brand.
We are talking about the Benson Swiss Series Single 1.20 Black watch winder. This watch winder is made of very beautiful wood and comes in the color black. The compact model can be closed with a glass door that protects your beloved watch against external influences. This includes, for example, dirt, dust and condensation. This watch winder is equipped with a Swiss made motor that is known as the best of the best. Not only are these motors powerful, for more heavy watches, and energy efficient at the same time, they also work silently. This ensures that you can place the watch winder in your bedroom or at your workplace without any problems and irritations. Due to the specially developed safety system, the motor decouples when a watch is removed from the watch winder or placed correctly.
The Benson Swiss Series Single 1.20 Black watch winder works on mains power, but also on batteries. This makes it possible to place the watch winder in a safe. You can easily set the watch winder with the help of the modern LCD screen. For example, it is possible to set the number of rotations per day and the direction of rotation. This watch winder also has an overwind protection. This model is suitable for any automatic watch, regardless of the type or brand of watch. Finally, Benson uses flexible watch holders and these watch winders are completely assembled in the Netherlands. The Swiss technology and Dutch assembly provide a top product that actually has no competition in this price range.
Another watch winder for 1 watches that we would like to bring to your attention is a model by the Swiss Bernard Favre. It concerns the Bernard Favre Planet Silver watch winder. This model is also suitable for winding one watch. Despite the fact that this watch winder also has a compact design, Bernard Favre knows how to attract all eyes with this unique design. Each Bernard Favre model features Bernard Favre's authentic design signature. This specific watch winder has a black base, in combination with silver colored rings. This ensures that the Bernard Favre Planet Silver has a very chic look. Bernard Favre also uses the so-called Planet winding system. The watch is placed in the watch winder and rotates around its own axis to collect the required energy. Like a planet, as it were. In this way, not only the design itself but also the winding process is very fascinating to watch. This will appeal to every enthusiast. A glass dome can be placed over the watch winder. This gives the watch winder an even more luxurious look and also offers protection against moisture, dust and dirt.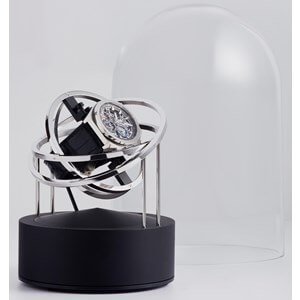 The Bernard Favre Planet Silver watch winder is also equipped with a Swiss made motor with which you can be sure of a solid and reliable technique. The watch winder offers various winding programs and overwind protection. Moreover, with this watch winder you have a USB connection. In this way you can wind up this model using mains power, PC or telephone. Incidentally, the Bernard Favre Planet Silver watch winder has a built-in battery (100 days). The handy LED indicator shows the status of the battery. So here again a very complete model, with which you also make an exclusive choice in terms of design.
In addition to the 2 models mentioned above, we have various other watch winders in the range that are especially suitable for 1 watch. Are you looking for a watch winder for a single watch? Then take a quick look at our webshop!