Bernard Favre Planet Silver watch winder
Swiss made is synonymous with quality. This does not only apply to exclusive automatic watches, but also to the watch winders with which these watches can be wound. Switzerland has a long history in the field of luxury watches and is home to many watch technicians and beautiful brands who design and manufacture these watches. This also applies to the watch winder. Since the development of this watch accessory, the choice in this area is also increasing. Both the technology that is used to provide the watches with energy and beautiful extra functionalities and the designs are constantly being developed. Innovation is therefore very important to many Swiss brands.
An example of such a brand is the exclusive Bernard Favre brand. Bernard Favre offers extremely high quality watch winders which are equipped with Swiss motors. Swiss-made motors have several advantages. They are very reliable and solid. Of course it is important that you can always count on your watch winder. In addition, Swiss motors can operate with little energy and make hardly any noise during the winding process.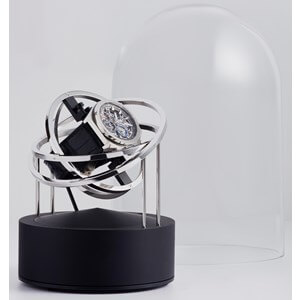 In addition to the impeccable technology, which Bernard Favre captures in the so-called 'Planet Winding System', the brand offers several other characteristic features that always make Bernard Favre's watch winders easily recognizable. For example, the brand uses high-quality materials, such as leather, stainless steel and stainless steel PVD. The design of the brand has its own identity. When the watch is placed in the watch winder, it rotates around its own axis for winding. This is also where the name of Bernard Favre's system comes from, it refers to the rotation of the earth. Winding a luxury watch in a Bernard Favre watch accessory is a beautiful sight and becomes quite an experience. Bernard Favre's watch winders are all made by hand by the real experts in this field. This can be seen in the end result. Nothing is left to chance. Bernard Favre goes for nothing but perfection. Both the eye for detail and the excellent finish are proof of this.
A watch accessory that certainly attracts attention within the Bernard Favre collection is the Bernard Favre Planet Silver watch winder. This model is made of stainless steel with the foot in black and the rings on the foot in silver. This 'masterpiece' deserves a nice place in your interior. When the watch is placed in this watch winder, you will see that you keep looking at it. The glass dome that can be placed over the whole has 2 functions. Firstly, it ensures that your watch is well protected against harmful external influences, such as dust and condensation. Secondly, this bell jar completes the look of this watch winder, with this watch winder you get a pure feeling of luxury and style.
The Bernard Favre Planet Silver watch winder is of course equipped with a Swiss made motor. This motor provides a solid and reliable foundation for this watch accessory. Whatever automatic watch you own, this model ensures that it gets the right way of winding. The watch winder is equipped with a special LED indicator that shows the status of the watch. Furthermore, this watch accessory is programmable and has the programs CW, CC and Alt and an overwind protection. The design of this model by Bernard Favre is compact. In addition, this watch winder works with a built-in battery that is good for 100 days of functioning. These two properties ensure that you can also place the watch winder in a safe if you prefer. In addition, it also makes taking it with you on a trip or to the office a good option. Charging the battery is easy using the USB connection, via mains power, PC or Smartphone.
In summary, with the Planet Silver watch winder you choose a model from a renowned brand that stands head and shoulders above many other brands in all areas. Superior quality, Swiss made motors and of course a very unique design make this watch winder 'one of a kind' and therefore a compliment for your beloved automatic watch. With this watch accessory, your automatic watch is immediately ready for use at any time and is also always well protected.
With a Bernard Favre watch winder you do not only purchase a watch winder. The designs of this model are a true status symbol and also an art object for the home. We offer several particularly beautiful designs by Bernard Favre in our webshop. We are proud to be an official dealer of Bernard Favre and therefore have almost the entire collection in stock. This way we can have your order delivered to you extra quickly. Every Bernard Favre watch winder comes with a 2-year warranty and a manual. In addition, you will receive your new watch winder in a beautiful packaging and adapter.
Read more >>Posted on 23 May 2022 at 11:38 AM