Ingersoll watches
If you are looking for a good quality watch with a stylish appearance, there is a lot of choice. Many brands offer good quality and each brand has its own look when we look at appearance and design. Over the years, various brands have been added that know how to produce beautiful watches, but a watch brand with a history and a special story will be the most attractive for most enthusiasts. A brand that has been active in the watch industry for more than a century and can now be called world famous is the American brand Ingersoll. Ingersoll was founded by the Ingersoll brothers. They wanted to market watches of good quality at an attractive price. In 1892 they bet on an automated production line with which they put a watch on the market for the price of 1 dollar. This so-called 'dollar watch' ensured that the brand became very well known. Ingersoll watches are now indispensable and the real enthusiast certainly knows them.
Over the years, Ingersoll has become very popular and famous. The brand managed to collaborate with well-known names such as Henry Ford and Disney, which allowed them to put themselves even more on the map. To this day, Ingersoll is known for its affordable watches, which in terms of quality are certainly not inferior to the more expensive variants. Ingersoll uses automatic timepieces where the craft of the watchmaker comes into its own. Another strong point of Ingersoll is that the brand has included various designs in the collection, which means that the brand is able to appeal to a wide audience. The designs of Ingersoll watches range from a more traditional and classic look to a more sporty and tough look. Women's watches have also been thought of, because in addition to an extensive men's collection, Ingersoll also offers various beautiful and elegant models for the ladies.
In this article we will discuss some Ingersoll watches in more detail, starting with the Ingersoll IN3900 SL Apache. This watch has a somewhat classic design and a stylish appearance. The combination of the black leather strap with the stainless steel case creates a sleek look. On the white dial we see a number of blue accents, which gives a playful effect. This watch is of course equipped with a reliable automatic movement in which no less than 20 precious stones are processed. The watch has several nice extra functionalities, such as a date display, second hand, luminous indicators and a nice chronograph function. In short, a watch with a luxurious appearance and striking technology at an attractive price.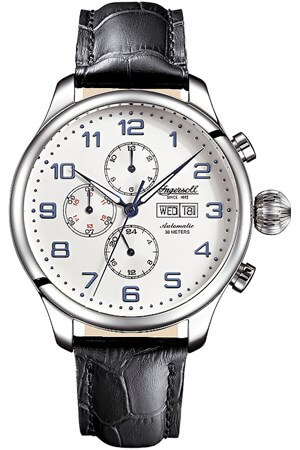 The next watch we take a closer look at is the Ingersoll IN3105 BBKO Chinook. This watch has a completely different look and feel than the aforementioned watch because it has a more sturdy and robust appearance. The combination of the dark brown leather strap, black dial and yellow accents makes this watch a creative and original piece. The striking yellow color that contrasts with the black dial makes this watch very easy to read. This watch is also equipped with a quality automatic movement. The watch case is made of stainless steel PVD and hardened mineral glass has also been used. This watch is water resistant to 50 meters and closes with a buckle. The watch also has a seconds hand.
The third watch we mention is the Ingersoll IN2301 BBKO Pomo. This particularly beautiful men's watch has a modern approach. The watch strap is made of black leather and the dial is black in color with orange index. The case is made of stainless steel with PVD coating for a black look. Furthermore, this watch also has an automatic movement, which forms a solid basis. This contains 21 gemstones. This watch has a nice list of extra functionalities. Furthermore, the watch has a date display, second hand, luminous indicators and a chronograph function. In other words, this is a watch that offers everything a true watch enthusiast could wish for.
The last watch we want to highlight is a ladies watch. It concerns the Ingersoll IN 7210 PU Tulalip. If you, as a woman, like to wear a striking watch on your wrist that attracts all eyes, then this is really something for you. With the striking purple color, the embossed leather strap and the creative dial, this is a real eye-catcher. Of course, this watch is also equipped with an automatic movement, which you have a nice view of through the glass bottom. Furthermore, with this watch you have access to luminous indicators and a second hand.
We now offer the above models, but also various other Ingersoll watches, with a nice discount. So grab your chance now to purchase a beautiful Ingersoll watch of excellent quality with a unique appearance at an extra competitive price!
Read more >>Posted on 31 July 2021 at 8:47 AM