Davosa Pontus Pilot 161.497.55 watch
A beautiful pilot's watch with a touch of nostalgia is an attractive watch for many watch enthusiasts. There are many Swiss but also German watch brands that offer pilot watches in their collection that are definitely worth it. Think of Laco and Fortis.
But the German brand Davosa, which has its roots in Switzerland, is also a brand that offers, among other things, appealing pilot watches. A pilot's watch is related to aviation in terms of design and function. For a pilot, the watch used to be easy to read, which meant that it was often larger. In addition, it was important that the watch was also easy to read in the dark. These are therefore features that we often see in today's pilot watches. These take you back to the old days and often have a retro look. Today's pilot watches are generally appropriate to wear on different occasions. For example, while flying, but also on a business or more casual occasion, these can be worn very well. A stylish and elegant pilot's watch completes your outfit!
The Davosa watch collection is diverse and extensive. In addition to exclusive pilot watches, the collection also includes high-quality diving watches. Davosa is a brand that considers it important to be accessible to a wide audience. They therefore strive to keep the watches from the collection affordable. However, this does not mean that you have to compromise on quality. Davosa ensures that the watches are manufactured with the greatest possible passion and care by real professional technicians. In addition, the brand attaches great value to a piece of innovation, so that it will never stand still in the technical field. With a Davosa watch, you always opt for the most modern technologies. In addition, Davosa only uses Swiss made timepieces from the ETA and Valjoux brands, which are known as the best in the world. With a Swiss base, the use of high-quality materials and an exclusive design in combination with attractive prices, Davosa knows how to distinguish itself from other luxury watch brands. Moreover, this allows the brand to compete well with larger and more expensive brands. With a Davosa watch you always choose top quality at a competitive price.
A particularly stylish pilot's watch from the Davosa collection is the Davosa Pontus Pilot 161.497.55. This watch is characterized by a beautiful black leather strap with white stitching as an accent. It closes with a folding clasp, which further emphasizes the luxurious character of the watch. The watch case of this watch is made of stainless steel and has a diameter of 47mm and a thickness of 15mm. This is a slightly larger size, making the watch very easy to read. The dial is also black in color and features white accents. Davosa has used sapphire glass for this watch. Sapphire glass is extremely strong and therefore very suitable for a robust watch like this. Scratches will therefore not easily be visible on this glass. As we are used to from Davosa, this model is finished to perfection and will therefore be a real eye-catcher on the wrist.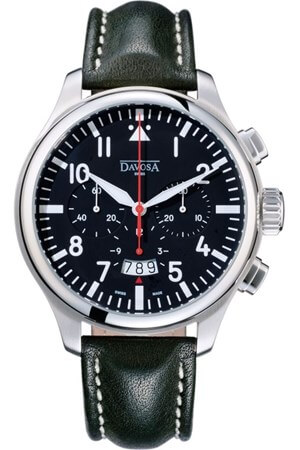 Davosa Pontus Pilot 161.497.55 is water resistant to 50 meters. Of course, this watch is equipped with a top quality Swiss made movement that provides a solid base. This comes from the Valjoux brand (Valjoux 7753). This watch also offers an impressive list of extra functionalities. It is equipped with a date display, second hand and luminous indicators. In addition, this watch also has a nice chronograph function. All in all, a beautiful and complete model that honors the authentic pilot's watch. This is an absolute must for fans of aviation history and beautiful watches. With the Davosa Pontus Pilot 161.497.55 you choose a watch that can be worn on different occasions and with various outfits. Especially due to the predominantly black tones, it is suitable for many styles. In terms of quality, with this watch you can be sure that you will be able to enjoy it for years to come. The Swiss heart of the watch always ensures a reliable and accurate display of the time. Due to the very good price/quality ratio that Davosa offers, you definitely get a lot for your money with this watch.
You can now order the Davosa Pontus Pilot 161.497.55 from us in the webshop. We are also an official dealer of Davosa, so you can always place your order with us with confidence. We also offer the best prices, the latest collections and the best service. The Davosa Pontus Pilot 161.497.55 comes with a 2-year warranty and a clear manual in a luxurious official watch box. View our collection of Davosa watches in our webshop now and choose the watch that suits you best!
Read more >>Posted on 28 November 2022 at 3:06 PM