RDI watch winders, Swiss made and unique!
The Swiss made watch winders from RDI are of exceptional quality. The watch winders are not only manufactured by hand in Switzerland, but also all individual parts come from Switzerland. The motors of RDI watch winders are also very quiet to use and the design is compact in size. The watch winders work for one year on one set of AA batteries. This combination makes them perfect to take with you on travel and vacation. They are suitable for all automatic watches and not only provide your watch with the required energy, but also ensure an optimum spread of oil inside the movement of your watch. In addition, they offer protection against damage, dirt and dust. After all, you don't just leave your valuable watch just laying somewhere. The watch is safe in a watch winder.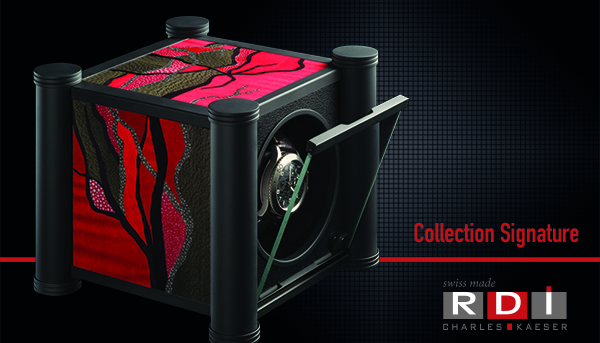 In addition to the high-quality technology of these innovative RDI watch winders, the aesthetically pleasing designs are also worth mentioning. The beautiful designs are inspired by, among other things, the beauty of nature. In addition, RDI works with various artists to design the watch winders. These "pieces of art" stand out for their sleek design and modern and contemporary look. These watch winders are for the real collectors who want something unique. They are not cheap, but you really have something special for your automatic watches.
The watch winder collection from RDI consists of designs with beautiful colors and shapes, but there are also models with a sleek and more modern look. Only high-quality materials such as wood, leather and stainless steel were used for the designs. In short, the RDI watch winders are rightfully among the best in the world!
We are an official dealer of RDI watch winders and offer the latest collection, competitive prices and a 2-year warranty. In addition, we deliver from stock. Within the Netherlands we ship for free, but we also ship all over the world via Fedex and PostNL. Always insured and registered.
Read more >>Posted on 23 May 2019 at 10:35 AM