Meccaniche Veneziane Nereide ref 1202001 watch
Meccaniche Veneziane is known as the crème de la crème within the watch industry in Italy. The watch brand uniquely combines Italian design with Swiss technology, a golden combination. Meccaniche Veneziane was founded by the Alessandro and Alberto Morelli brothers. With their passion for the operation of the clock and display of time, they decided after a visit to the imposing clock tower of Venice to set up their own company and to launch special watches on the market.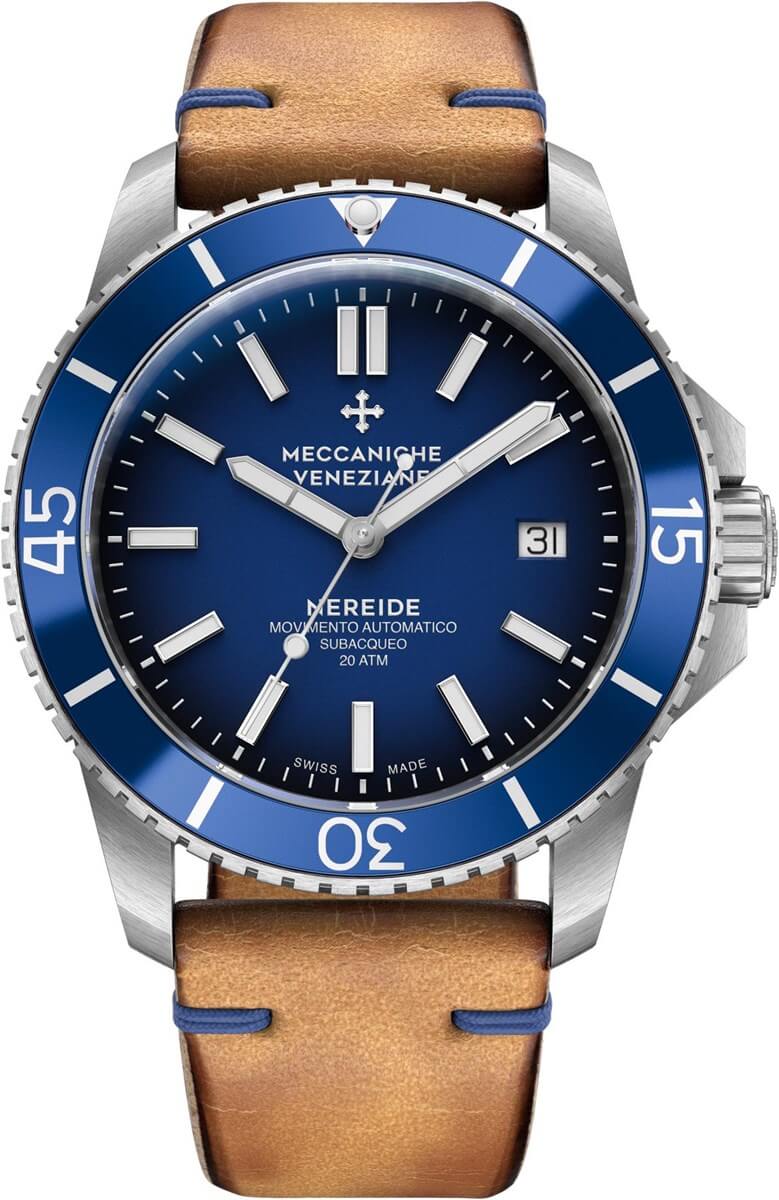 With their dream, the Morelli brothers wanted to bring the old Venetian watch tradition back to the present, as it tended to be lost more and more over time. Tradition, nostalgia and beautiful designs with a very high quality in addition is a description that is very appropriate for the unique Italian brand. The brand logo of the Meccaniche Veneziane watches also houses a nice story, the inspiration for this logo comes from the cross on the Saint Mark watchtower. Appropriately enough, it stands for the symbol of time observation.
A watch within the collection of Meccaniche Veneziane that is definitely worth mentioning is the Meccaniche Veneziane Nereide ref 1202001. This watch with an Italian character and Swiss movement, has a unique beautiful blue dial. The leather brown strap is handmade and gives the watch a classic and stylish look. The watch is also equipped with a stainless steel case and SuperLuminova which gives light in the dark. In addition, the Meccaniche Veneziane Nereide ref 1202001 is water resistant to 200 meters. In addition, the watch is equipped with a rotating bezel, screw-down crown and date display. The luminous indicators complete the picture. The watch is also very affordable, despite the many extra functionalities.
As an official dealer, we supply the Meccaniche Veneziane Nereide watches with a two-year warranty. Moreover, they come in a beautiful handmade wooden watch box from Friuli. These watch boxes are specially made for the brand by a real craftsman in a traditional woodworking company. This is done according to the old tradition of woodworking, entirely in keeping with the traditional brand. Delivered in this special watch box, the watch is an absolute gift for yourself, or for someone else of course.
Read more >>Posted on 13 November 2019 at 1:32 PM