Glycine watch sale
When we talk about a watch brand that stands for pure perfection, we are talking about Glycine. Glycine was founded by Eugène Meylan who was a true perfectionist. Everything had to be right when designing his Glycine watches. This ranged from the design, to the use of materials and technical details. This applies to this day and with a Glycine watch you choose sublime quality. Glycine is also known as a watch brand that is progressive. Innovation and development have therefore always been a top priority at Glycine. In addition, the brand is known for its pilot/world timer watches, with which it focuses, among other things, on pilots and frequent travelers.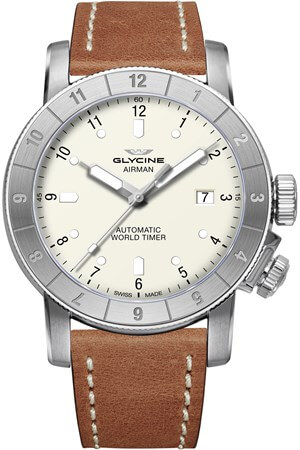 Glycine watches are comparable to larger brands in terms of quality and technical aspects, but at a better price. The price/quality ratio is therefore very good. Because Glycine is also a smaller watch brand, they pay more attention to quality and finish. The Glycine watches are manufactured in Switzerland in a very strict production process, which is clearly visible in the beautiful end result. Glycine has become very popular and well-known because of the 'Airman' model, which is still available to this day.
In the Glycine collection we can distinguish between different beautiful series of watches. In this article we want to bring 3 specific watches from Glycine to your attention, 2 of which are the particularly beautiful 'Airman' models. First of all, the Glycine Airman DC 4 Vintage GL0072 Purist, which is a very complete pilot's watch. This watch is water resistant up to 100 meters and has various additional functionalities. We're talking about a rotating bezel, screw-down crown and luminescent indicators. But also a date display and second hand are not missing. The case of this watch is made of stainless steel and the watch strap is made of nato. The watch has a black dial and a black strap. It closes with a buckle closure. Of course, this watch has a Swiss made top quality automatic movement, for which Glycine is known for.
The second Glycine watch we would like to mention is the Glycine Combat Classic Moon Phase GL0115, from the Combat Classic Moon series. This watch has a somewhat classic and traditional look, partly due to the beautiful brown leather strap. The dial is silver in color, with yellow accents. This watch has a date display, second hand and luminous indicators, as well as a moon phase display. The latter makes the watch extra special and will certainly be appreciated by the real enthusiast. The Glycine Combat Classic Moon Phase GL0115 is also waterproof up to 50 meters and closes with a buckle. This watch is again equipped with an automatic movement of Swiss origin, with which you are again assured of a solid base.
Last but not least, we mention the Glycine Airman 42 Double Twelve GL0061. This watch has a completely different look than the previous 2 watches we discussed. The light brown leather strap in combination with the calm-looking dial makes this watch quite neutral and could be worn with different types of outfits. This watch also offers many extras. With this model you have a screw-down crown, rotating bezel and luminous indicators. You are also equipped with a date display and second hand with this watch. The watch is also water resistant to 100 meters and closes with a buckle. Sapphire glass has been used, so that any scratches will not be visible quickly. This Swiss made watch is absolutely timeless and offers a beautiful design and high-quality technology. With this specific watch you are clearly choosing a watch of quality, which can also be called very complete.
The above models are of course just a selection from Glycine's collection of Swiss made watches. Every Glycine watch is stylish and elegant, but Glycine also offers enough variety to serve enthusiasts with different personal tastes. With a watch from Glycine you choose a special item for now and in the future and that for a great price. It is now possible to purchase a Glycine watch for an extra attractive price. We now offer various models of Glycine with a nice discount. There is a choice of models with a diverse appearance, so that there will be something for every enthusiast that appeals to him. If you opt for top quality and a great price, then you choose Glycine!
When you order a Glycine watch from us, you will receive it in a luxurious official box at home with a 2-year warranty and a clear manual. BensonTrade is an official dealer of Glycine. You place your order safely and quickly in our webshop. You can easily pay with credit card, Paypal, iDeal or regular bank transfer. So don't wait any longer and take advantage of these great offers for various Glycine watches!
Read more >>Posted on 23 June 2021 at 10:01 PM