MeisterSinger Circularis CC908LG watch
For anyone with a preference for high-quality automatic watches with their own identity, the German brand MeisterSinger is an absolute must see! The brand that was founded in 2001 by Manfred Brassler and is characterized, among other things, by the unique one-hand display that was then used by Brassler in the MeisterSinger collection, as an alternative to the regular wristwatches. In addition, the unique index and the highly curved glass are important features of the MeisterSinger watch, which any lover of high-quality watches will certainly appreciate. In this case, the combination of the German and Swiss well-known reliability, solidity and durability results in a collection of stylish watches of a high level.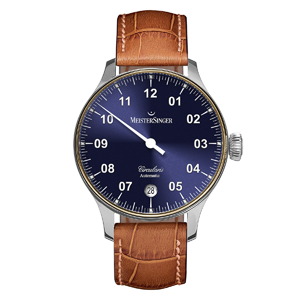 What is also evident in the MeisterSinger collection is the eye for detail and a sublime finish. In this area and in terms of quality, this brand deserves a place among the top brands. Moreover, the modern technology behind the MeisterSinger watches is absolutely worth mentioning. The high technology and the special design of the MeisterSinger watches will appeal to every enthusiast.
Within the beautiful, classic watch collection of MeisterSinger, the MeisterSinger Circularis CC908LG is an absolutely stunning watch. This special watch features a rose gold case, classic blue dial and a beautiful watch strap made of supple crocodile leather. The stainless steel case is also equipped with an 18 carat gold bezel. The classic and calm appearance of this watch, together with the good readability make this model very suitable for a wide audience. Of course this watch is also equipped with a high quality Swiss movement, this automatic MSA01 movement has a 120 hour power reserve. The watch is also waterproof up to 50 meters, has a diameter of 43 mm and offers a date display as extra functionality.
If you decide to choose a top watch from the MeisterSinger brand, you can easily order it from BensonTrade. You will then receive your watch in the official watch box, with manual and a two-year international warranty. BensonTrade also offers a number of MeisterSinger watches with a discount of up to 30%. For example, you can order the MeisterSinger Circularis CC908 LG at BensonTrade with a nice discount of up to 27%. A very good time to choose a top quality watch with its own character. You immediately choose a real eye-catcher, which you will enjoy for a long time.
Read more >>Posted on 26 May 2020 at 2:38 PM