Paul Design Gentlemen 8 Black Shadow watch winder
If we look at the watch winders on the European market and the Asian market, there is a big difference between quality and price in this area. The owner of Paul Design, a former technician for high-quality watch winder brand Buben & Zörweg, saw this as a great challenge. As an experience expert in this field he wanted to fill this gap in the market. Due to his knowledge in the field of high-quality materials, technology and finish, he knew exactly what a good watch winder must meet.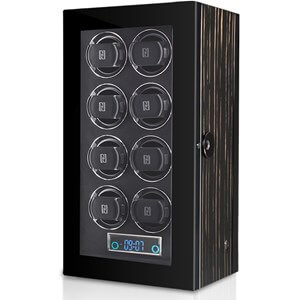 He therefore decided to found the brand Paul Design. Paul Design is today known as a brand from the United Kingdom that distinguishes itself from other brands by offering top quality and a perfect finish in combination with technical finesse, but not asking the highest price for it. The brand is therefore focused on offering sublime quality and the best excitement for every automatic watch for the true enthusiast.
In the Paul Design collection we see beautiful designs made of high-quality materials such as beautiful woods. In terms of technology, the brand has the very latest to offer, which ensures that your watches from Rolex, Breitling, Seiko, Longines and Baume et Mercier, for example, enjoy the most ideal way of excitement with a Paul Design watch winder.
Ideally, a watch winder not only provides the necessary winding of automatic watches, but also provides a correct oil distribution inside the timepiece, and also offers a sturdy and safe storage place for your watches. Paul Design knows how to offer the best in all these areas. The Paul Design watch winders are lined on the inside with a special soft fabric, which ensures that your watches are protected against scratches or damage. Paul Design offers both the enthusiast with a single or a few automatic watches and the real collector watch winders with a diverse capacity.
A good example of a watch winder suitable for the collector is the Paul Design Gentlemen 8 Black Shadow watch winder. This model is suitable for winding up to 8 automatic watches. Any automatic watch can be wound with this watch winder, regardless of the type or brand of watch. By means of the touchscreen display it is possible to program the watch winder easily. This makes it possible to individually change the direction of rotation and the number of revolutions per day per rotor. This way you can be sure that every automatic watch gets exactly the winding it needs. Because Paul Design also uses flexible and adjustable watch holders, almost any size watch fits effortlessly in the holders.
The Paul Design Gentlemen 8 Black Shadow watch winder can be closed with a glass door, which is also equipped with a special fingerprint technology. As a result, you can only open the door with your fingerprint and you not only protect your watches against external influences such as condensation or dust, but also against children's hands, for example. This watch winder is made of particularly beautiful wood, which is finished with macassar. The combination of the wood grain in the macassar with the otherwise black exterior gives the watch winder a very luxurious look. Of course, this watch winder from Paul Design is also provided with the soft fabric in the interior, which not only gives a feeling of luxury but also offers extra protection.
Paul Design uses Japanese motors of exclusive quality for the watch winders. The Paul Design Gentlemen 8 Black Shadow is also equipped with these Japanese Mabuchi motors. These motors bring several advantages. They are energy efficient, strong and durable. In addition, the motors are also very quiet in use, so you can place a Paul Design watch winder in your bedroom or workplace without worry, for example, without having to worry about disturbing noises. Furthermore, the Paul Design Gentlemen 8 Black Shadow is equipped with a modern built-in LED lighting. This allows you to view your watches during the winding process and the watch winder also functions as a beautiful display. The energy supply of this watch winder from Paul Design is via an adapter. The watch winder also has an overwind protection so that your automatic watches are wound completely safely. For optimal user comfort, a remote control is also included, which completes the picture.
In short, with the Paul Design Gentlemen 8 Black Shadow watch winder you choose a classic stylish watch winder, equipped with modern technology in the form of the innovative touchscreen, the LCD lighting, the fingerprint technology and the high-quality Japanese motors. In addition, you benefit from an extremely good price/quality ratio, which only few brands in this industry can compete with.
In addition to the Paul Design Gentlemen 8 Black Shadow, as an official dealer of Paul Design, we naturally offer several other models of this traditional brand. We can also let you benefit from the latest collections, the best prices and the best service. Take a look at our webshop now and order your favorite Paul Design watch winder!
Read more >>Posted on 30 November 2021 at 1:02 PM