New Heisse und Sohne watch winder collection
As a true watch enthusiast or collector, you know better than anyone that a good quality watch winder is a vital part of a collection of automatic watches. But even if you own a single automatic watch a watch winder is indispensable. An automatic watch needs the right movement to keep running and at the same time ensuring that unnecessary wear and tear does not occur. When an automatic watch comes to a standstill, this may result in inaccuracies in the time/date display. This is of course very undesirable. Normally, the natural movement of the wrist meets the energy requirements of these watches. However, if you do not wear the watch, for example at night or when you're on a holiday, the use of a watch winder is very handy. A brand with which we have good experiences is Heisse & Sohne. In this article we write about this watch winder brand.
A special brand that we have been an official dealer for years is Heisse & Sohne watch winders. The watch winders of this German brand distinguish themselves among other things from other watch winder brands by the good price/quality ratio and stylish, understated and modern designs. In addition, they not only offer a standard watch winder, but also, for example, high-end watch winders with built-in safes. These safes meet the highest European standards and thus offer an absolutely safe storage place for your watches. The designs of the Heisse & Sohne watch winders also stand out due to the use of contrasting materials, such as wood, metal and glass. This provides a luxurious and chic look, with which a Heisse & Sohne watch winder will be an absolute asset for both your collection of automatic watches and your interior.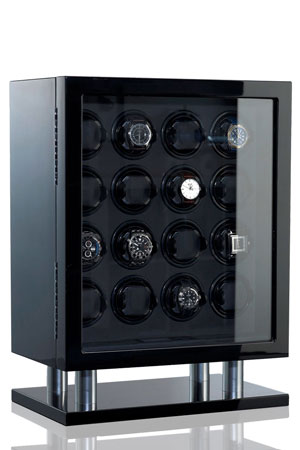 The Heisse & Sohne watch winders are very functional and equipped with advanced technology. The number of revolutions per day is adjustable, but also LCD control and LED lighting are not missing. The watch winders from Heisse & Sohne are suitable for any automatic watch, regardless of brand or type. They are equipped with strong Japanese motors and there are models in both black and carbon exterior versions. The Heisse & Sohne watch winders are available with different capacities, there are watch winders with space for three watches, but also watch winders with space for up to sixteen automatic watches. Ideal for the collector. BensonTrade supplies Heisse & Söhne watch winders with a two-year warranty and manual.
Read more >>Posted on 14 October 2019 at 6:47 PM