Benson Compact Aluminum watch winders
The Dutch brand Benson is known for its high-quality watch winders that provide any automatic watch with energy safely and easily. In 2020, Benson presented its Compact collection, which contains many interesting and affordable models for winding 1, 2 and 3 watches.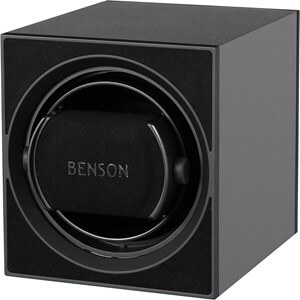 The Benson Compact watch winder collection is characterized by compactly designed designs, high-quality Japanese motors and an LCD screen that allows you to rotate the watch winder clockwise, counter-clockwise or alternately. In addition, you can set the direction of rotation via the LCD screen so that the automatic watch obtains the correct direction of rotation and TPD (turns per day).
The nice thing about the Benson Compact models is that they are very affordable but still offer very good quality. In addition, there is a choice of many different models. The smallest ones for 1 watch also work on a set of batteries, so you are flexible where you place the watch winder. An adapter is of course included for all models.
Benson now presents its latest series of models for the Compact collection. This new generation of Benson Compact Aluminum watch winders has a very modern and luxurious design and winds any automatic watch without any problems. As the name suggests, the case is made of aluminum, which gives the watch winder a modern look, but above all it is extremely strong. You can set the watch winder completely to the requirements of the automatic watch using the LCD screen on the back. You determine the direction of rotation and the number of revolutions per day (TPD). There is also a button on the back that allows you to switch the LED lighting on or off. This LED lighting provides an extra beautiful effect in the dark. This function only works when the watch winder is connected to mains power with the adapter. The LED lighting cannot be used when this watch accessory is running on batteries, simply to save excessive energy consumption of the batteries.
One of the special advantages of this new generation of Benson Compact Aluminum watch winders is that they can function for up to 6-9 months on one set of batteries. This allows you to place this watch accessory wherever you want and you do not have to worry about it for a very long time in terms of power supply. This makes the Benson Compact Aluminum watch winders ideal for placing in a safe, cabinet or drawer.
The new Benson Compact Aluminum watch winders are available in 5 colors; black, dark grey, light grey, blue and white. The official retail price is 349.00 euros and for this you get the watch winder itself, manual, adapter and 3-year warranty. Benson has great confidence in this new generation of watch accessories, which has extended its standard warranty period from 2 years to 3 years.
All Benson Compact Aluminum models are expected to be available at every Benson dealer, including us, by the end of June. We have all models in stock and can deliver immediately. We have presented all models on our website, for example the Benson Compact Aluminium 1 Black watch winder.
Are you interested in this new generation of watch winders? Soon we will present these models on our website and you can order them online. If you prefer to be kept informed when they are available, we will gladly send you an e-mail upon request.
Read more >>Posted on 30 May 2023 at 4:50 PM