Escada watches
When we talk about good quality watches, the attention usually quickly turns to men's watches. It is one of the few jewelry that is worn by many men and where many enthusiasts and even collectors can be found. Yet there are also many beautiful watch brands for women to be found that deliver high-quality watches and are therefore not inferior to men's watches. Because quality is also high on the priority list for the modern woman, as is a fashionable and stylish design. Nowadays, sustainability is increasingly important to both women and men and therefore plays an important role when purchasing a watch. A watch brand for ladies that is loved by many women and known for its high quality, is Escada. As a small brand, Escada offers extra attention to quality and finish and has a beautiful collection of stylish watches for women who love class. Let's take a closer look at Escada watches and describe why we think Escada is an attractive watch brand for ladies.
Watches from Switzerland are known for their sublime quality. A watch brand must therefore meet various strict requirements and conditions to be allowed to wear the Swiss made label. Escada is one of those brands, and for good reason. The Swiss made watches in the Escada collection are characterized, among other things, by the beautiful designs and the feminine design. Moreover, Escada watches offer a very good price/quality ratio. In terms of quality and design, Escada is comparable to the larger brands, but at a better price. This makes a brand like Escada interesting for a wide audience and accessible to women with an average budget. Escada only uses high-quality materials, such as stainless steel and hardened mineral glass. What is also striking is the diversity in the Escada collection. Although each watch is equally stylishly designed, each series of watches from Escada has its own identity and therefore target group.
The different series of watches from Escada serve different women, each with their own personal taste and character. The watches in the Escada Catherine series are characterized by stainless steel watch straps in gold, rose, or silver color or a combination. The hands and numbers on the dial are the same color as the watch. The dial itself is white. For example, you have the choice of a more calm-looking watch by choosing the one in a single color scheme, or a more expressive watch by choosing a combination of colors. Thanks to this color scheme, these watches can be easily combined with almost any outfit and give every woman a stylish and self-confident look. The watches are equipped with a quartz movement and are waterproof up to 30 meters.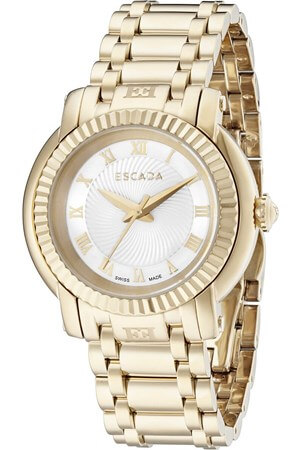 In the Escada Lauren series also stand out because of the use of stainless steel watch straps. The dial of these watches is also white, but the hands are more striking due to the choice of color. These are for example executed in blue or black, which makes them stand out even more. With regard to the color of the watch strap and watch case, we see gold and silver colors. These watches are also equipped with quartz movement and are waterproof up to 30 meters. An Escada Lauren watch is suitable with different outfits and can be ideally combined with them.
In the third series of Escada, the Escada Estelle II series, we see watches with a completely different look. The watch case of these watches is square instead of round, which gives a completely different look. Moreover, these watches are equipped with a beautiful leather watch strap, for example in the color brown and black. The watch case is different per model in the color gold, rosé or silver. The dial is white and stands out because of the relief that can be seen on it. The dial does not contain numbers, but only an indication per quarter of an hour. The hands of the watch and the indication per quarter are both made in the same color as the watch case. This makes it look calm and clear. The watches close with a buckle clasp. These watches from Escada also have a Swiss made quartz movement and are waterproof up to 30 meters.
In addition to the Escada watch series mentioned, the brand also has several other models. All in all, Escada is truly a watch brand for the modern woman, who likes to dress nicely and finish her outfit with an elegant watch. With a watch from Escada you are assured of Swiss quality, so you can be sure that you can enjoy your purchase for a long time. An Escada watch is a valuable addition to your wardrobe and will be a real eye-catcher on your wrist. Because of the feminine touch that the watches from Escada show, it is also easy to combine with any other jewelry for a complete look. With any Escada model you get a timeless watch that is not subject to the coming trends, but will always remain hip and stylish.
BensonTrade is an official dealer of Escada watches. We supply all watches including a 2-year warranty, chic watch box and manual. Quickly view our current collection because we have discounted various watches.
Read more >>Posted on 25 February 2021 at 8:28 PM