Epos Emotion 3390.152.20.20.30
The watch brand Epos is one of our favorite watch brands from Switzerland. Why? We find Epos watches interesting because it is an authentic Swiss brand that produces very affordable watches of very good quality. There are quite a few brands from this Alpine country that offer a competitive price in addition to good quality. Brands such as Breitling, Rolex, Omega, IWC and Tag Heuer are not accessible to everyone. Epos is a brand that is accessible, without making concessions in terms of quality, finish and durability.
A watch brand with history is extra interesting for lovers of luxury watches. There are watch brands that have been active in the watch industry for many decades and thus carry a special history with them. In this article we would like to introduce you to the Epos brand.
The impressive history of the Swiss watch brand Epos goes back almost a century. The roots of the brand can be found in the Vallée de Joux, also known as the beating heart of the mechanical watch world. Decades followed in which the brand changed owners a number of times. The basis of the brand was retained and there was always a search for development and innovation in the technical field. When the popularity of the mechanical watch declined drastically in the early 1980s due to the rise of the quartz watch, Epos was one of the brands that continued to rely on the power of the watch with an authentic mechanical movement. What followed were beautiful collections of mechanical watches that belonged to the absolute top.
Epos sees the development and manufacture of automatic and mechanical watches as an art form. The motto of the brand is therefore 'the artistry of watchmaking'. That's not for nothing. The watches of the brand are perfectly finished down to the smallest detail, with a passion that only the true watchmaker possesses. The Swiss made watch has built up an extremely good reputation over the years, whereby Swiss watches must meet the strictest conditions. Epos sees it as its mission to be a guardian of the outstanding quality of the Swiss watch. The utmost care is taken with every part of Epos watches. A large part of the production of these watches is done by hand by the craftsman. The timepieces used by Epos are of Swiss origin and from the well-known brands ETA and Sellita. A timepiece of this caliber always provides an extremely reliable and solid basis. The movements are finished to the utmost precision with blue screws and Côtes de Geneve. This means that every Epos watch exudes pure luxury.
Within the Epos collection you can find watches with both a classic and a more sturdy or sporty look. In addition, the brand offers a very good price/quality ratio. This means that you can purchase a top quality watch at an attractive price. This makes Epos accessible to a wide audience. In this article we would like to tell you more about a special design from the Epos collection. We are talking about the Epos Emotion 3390.152.20.20.30. With this watch, Epos knows how to combine the classic with the tough. The stainless steel watch strap gives the watch a more sturdy and robust look, where the classic-looking dial completes this combination. The dial is white in color with classic blue accents. The watch case is made of stainless steel and has a thickness of 9 mm and a diameter of 41 mm. This watch closes with a folding clasp, which ensures that you will not lose it quickly. Moreover, this closure emphasizes the luxurious character of the watch. Epos has opted for the use of sapphire glass for this watch. This is a type of glass that is known to be extremely strong, so scratches will not easily be visible.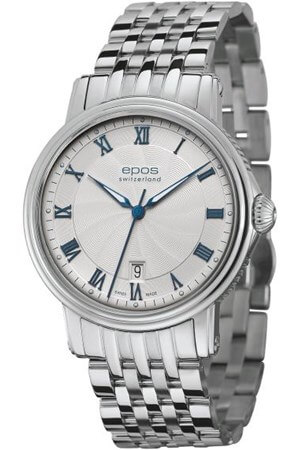 The heart of the Epos Emotion 3390.152.20.20.30 is formed by an automatic movement of the brand ETA (ETA 2892). The movement is visible through the transparent bottom, which will be a huge plus for the real enthusiast. This watch also has a date display and a second hand. Finally, this model is waterproof up to 50 meters. With the ETA 2892 you opt for a traditional watch that suits different clothing styles. This design is an extremely fitting and stylish accessory for both a business and a more casual outfit. Moreover, with this watch you are always up to date, because of the reliable Swiss made movement you can be sure that you will always be able to count on your watch. You should preferably always buy a quality watch like that of Epos from an official dealer. You can then be sure that you can count on the best service and that you will receive an authentic Epos watch. We are an official dealer of Epos and we are proud of this!
BensonTrade is an official dealer of Epos watches. If you choose to order the Epos Emotion 3390.152.20.20.30 or one of the other exclusive designs of this brand from us, you will always receive it at home with a 2-year warranty and a clear manual. In addition, you always receive your new acquisition in a luxurious official box. If you have an Epos watch in mind that you cannot find in our online store, please feel free to contact us. We can deliver any Epos watch on request.
Read more >>Posted on 1 February 2023 at 2:50 PM