The affordable Iron Annie watches
Are you looking for a stylish watch of good quality and with an attractive price? Then this is an interesting article for you!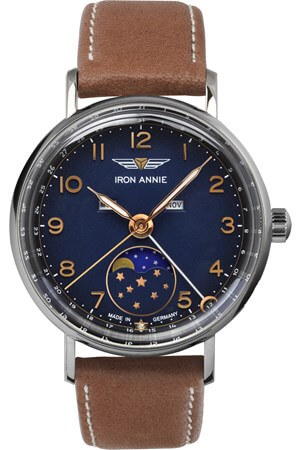 There are several watch brands worldwide that offer watches of good quality and that are affordable at the same time. Swiss watches are known for their extremely high quality, but German watches also stand for solidity and reliability. The German watch manufacturer Pointtec has three different watch brands under its wing, all of which are known for their varied and broad collections. This concerns the watch brands Junkers, Zeppelin and Iron Annie. Within the collections of these brands, watches are available with various types of movements. You can go to all three of these brands for watches with a quartz/mechanical or automatic movement. All three watch brands mentioned also have a clear link with aviation history, making these brands extra attractive for watch enthusiasts with an interest in this. In this article we would like to tell you more about the Iron Annie brand in particular.
The name of the Iron Annie brand refers to the name that the Americans gave out of admiration to the JU-52 aircraft with registration D-AQUI. They named these aircraft so because of their robust nature and their reliability. Iron Annie watches are also known for their high quality, exclusive design, reliability and their robust character. That is why the name of the planes was a very fitting name for this watch brand at the time. Iron Annie watches take enthusiasts back to the times of yesteryear, through their traditional, sometimes even retro appearance. The brand's collection contains more classic and more sturdy watch models and also offers a beautiful collection of pilot watches, especially for the true enthusiast. The watches within the Bauhaus series from Iron Annie are inspired by the Bauhaus art movement, where minimalism and modest designs predominate. These specific watches have a retro look and are equipped with thin watch cases. What is also striking is the perfect finish and the eye for detail. The Bauhaus watches from Iron Annie can be supplied with a stylish and beautiful leather watch strap, or with a tougher and robust Milanese stainless steel watch strap. This further emphasizes the variation in the Iron Annie collection.
We would like to tell you more about a number of specific Iron Annie models. First of all, a model from the brand's Bauhaus series, the Iron Annie Bauhaus 5066-2. This watch has a black leather watch strap with a buckle, which can be replaced by a Milanese stainless steel watch strap if desired. The watch case of the watch is made of stainless steel and has a thickness of 12 mm and a diameter of 41 mm. The watch has a black dial with gold-colored accents and is equipped with K1 mineral glass. This Iron Annie model is waterproof up to 50 meters. The high-quality automatic movement with which this watch is equipped comes from the Miyota brand. In addition to a date display, luminous indicators and second hand, this model also offers a power reserve indicator. The icing on the cake is that the watch has a glass bottom, which allows the true enthusiast to see his watch at work if desired.
A second watch that we would like to put in the spotlight for you is a beautiful pilot's watch. The Iron Annie Flight Control 5186-3 features a retro brown leather watch strap, embellished with light stitching. The brand name 'Iron Annie' also appears on the watch strap. The watch case of the watch is made of stainless steel and has a thickness of 12 mm and a diameter of 42 mm.
The dial of this watch is beige in color and is protected by sturdy K1 mineral glass. This model is waterproof up to 50 meters and equipped with a quartz movement from the Ronda brand (Ronda 5020.B). This makes the watch not only very accurate in terms of time display, but also highly resistant to shocks and impacts. The Iron Annie Flight Control 5186-3 also offers a date display, second hand and luminous indicators. In addition, this watch has a handy chronograph function.
As an official dealer of the Iron Annie brand, we have a very wide range of watches to offer. If you would like to order one of the models mentioned, or are curious about the many other options, it is definitely worth visiting our webshop. We supply Iron Annie watches worldwide, with a warranty period of 2 years. We use the services of Fedex, PostNL and DPD for delivery. We also supply a manual in the form of a booklet. You will receive your new Iron Annie watch in a luxurious official box. View our wide range of Iron Annie watches now and choose the watch that suits you best, you will certainly enjoy it for a long time and will not regret it!
Read more >>Posted on 20 September 2023 at 8:58 AM