Benson Black Series 4.16.BL Limited Edition watch winder
Posted on 9 June 2021 at 9:07 AM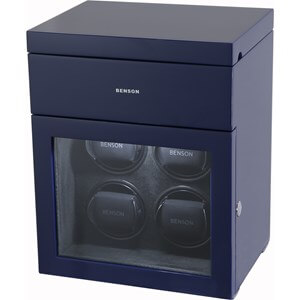 Are you a true fan of automatic watches? Or maybe a watch collector? Then you know that as the proud owner of a number of automatic watches, you cannot do without a watch winder. After all, you can't all wear your watches at the same time and an automatic watch normally gets the energy it needs from the natural movement of the wrist. If your watch is not on your wrist, you can use a watch winder as an alternative. For the collector, this large-capacity watch accessory, is ideal depending on the number of watches in their possession. If you want to take good care of your watches, a good quality watch winder is not only useful, but even indispensable. If you are looking for a high-quality model for a good price, which is reliable and durable, you buy your watch winder from a brand that is well known. Of course Switzerland and Germany are known as countries where top products come from in the field of both watches and watch winders. But there are also gems in this area in the Netherlands that offer a very good price/quality ratio.
Benson is a Dutch brand that offers a beautiful collection of watch winders with very attractive prices. They manage to achieve this by, among other things, having the models manufactured in-house and keeping the lines short. Every Benson watch winder is equipped with one or more Japanese quality motors or Swiss made motors. Both are known for their energy-efficient and quiet operation and their reliability. The Benson collection consists of different series of watch winders, of which the Black series is one of the most luxurious series. Benson has recently launched several new watch winder models, such as the new Benson Smart-Tech II models, the Benson Swiss Series and the new generation Black Series. It is certainly worthwhile for every enthusiast to take a closer look at this special collection. In this article we take you a bit into that.
In the Black Series collection we find the Benson Black Series 4.16.BL Limited Edition watch winder. This is a very exclusive model of which only 250 pieces are available worldwide as a Limited Edition. With this watch winder you choose a unique model that will certainly attract attention. Characteristic of this beautiful model is the classic blue color, which gives the watch winder a very luxurious look. The Benson Black Series 4.16.BL Limited Edition is provided with no less than 12 layers of paint and 1 protective layer, which ensures you of a watch accessory that will certainly remain beautiful for a long time. It just goes to show that Benson goes for nothing but the best. For the manufacture of these watch winders, only high-quality materials have been chosen, such as wood, stainless steel and mineral glass. The Benson Black Series 4.16.BL Limited Edition watch winder is suitable for winding 4 automatic watches and also offers space for storing 3 extra watches. In addition, the inside of the watch winder is provided with soft fabric (special soft velvet) for optimal protection of your watches. In addition, the watch winder is equipped with a soft close lid.
The Benson Black Series 4.16.BL Limited Edition is equipped with Japanese quality motors that are very durable. Of course, this watch winder from Benson is suitable for every type and brand of automatic watch. This is possible, among other things, because all rotors are individually adjustable in terms of rotation direction and number of rotations per day. This way you can set the right settings specifically for each watch. Benson also uses flexible watch holders, so that each watch can be placed effortlessly in the watch winder. The Benson Black Series 4.16.BL Limited Edition watch winder is adjustable using the modern touchscreen. The built-in LED lighting makes it possible to see your watches at any time of the day. Because the watch winder can be closed with a glass door, you protect your watches against various external influences, such as condensation, dirt and dust. Of course, the watch winder is equipped with an overwind protection, but a power winding function is also part of the functionalities of this exclusive watch winder. This allows you to provide your watches with the necessary energy in a short time.
In other words, the Benson Black Series 4.16.BL Limited Edition watch winder is first and foremost a very exclusive model that will be an absolute eye-catcher in your interior. Above all, however, it is a very modern and high-quality piece of technology, which provides automatic watches with energy in a very efficient and at the same time mild manner. With this exclusive watch winder you never have to worry about your watches coming to a standstill, so you can prevent not only irritations, but also, for example, inaccuracies in time and date display. And all that for a competitive price. So choose quality, exclusivity and sustainability, choose Benson!
We are an official dealer of Benson watch winders. We have almost every model in stock and available immediately. Of course you can pay in our webshop with iDeal, credit card, bank transfer or Paypal. From our warehouse we ship worldwide via DPD, Fedex or PostNL. Do you have questions about a particular Benson watch winder? With more than 16 years of experience, we are happy to help you.