Benson Compact Single watch winders
Posted on 20 January 2021 at 3:50 PM
One of the most popular series within the Benson watch winder collection is the Compact Single series. This series of watch winders that is suitable for winding 1 watch has a compact and modern design and is available in different colors. The Benson Compact Single watch winders are popular because of their excellent features and affordable price. Actually, there is no other brand in this price range that offers a better watch winder. Benson knows how to combine excellent quality with attractive design and ease of use. These elements ensure that Benson watch winders are a great success worldwide.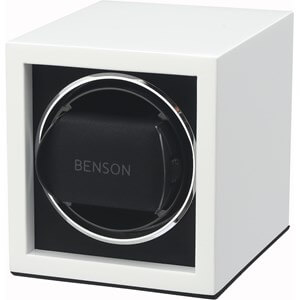 The Benson Compact Single watch winders are available in black, carbon fiber, white and walnut. Within these colors there is a choice of a chrome or gold colored ring around the watch holder. These watch winders are compact in shape and easy to place anywhere. The Compact Single watch winders can be connected to mains power via the adapter, but can also be used on a set of batteries. This allows you to place this watch winder in a safe or place it in a place where you do not have an power outlet nearby.
These watch winders are made of wood that is very solid but also absorbs sound. This makes this watch winder one of the quietest watch winders in this segment. The bottom of the Benson Compact Single watch winders is covered with soft fabric so that the watch winder can never damage the surface where you place the watch winder. Of course, these Compact Single watch winders are also equipped with the handy and flexible watch holder on which you can place any watch. Then you click the watch holder, with watch, into the watch winder so that it is securely fastened while rotating.
The control panel is located on the back of the watch winder. Via this control you can rotate the watch winder clockwise, anticlockwise and alternately clockwise and then left. You also set the number of revolutions per day here. Both settings are very important for the proper winding of an automatic watch. Once you have set the watch winder, this only takes 30 seconds, you do not have to worry about it anymore.
The benefits of the Benson Compact Single watch winders are numerous. But the most important to mention is the combination of a beautiful design, a solid Japanese motor and an affordable price. Our personal favorites are the Benson Compact Single 1.BS and 1.WS watch winders. The first is black in color and the second is white in color.
Each Benson Compact Single watch winder is packed in a sturdy box with adapter, 2 year warranty and manual. As an official dealer, we deliver almost all models from stock. We ship with DPD, PostNL or Fedex. Of course you can pay with iDeal, credit card, bank transfer or Paypal.
Are you looking for a nice affordable watch winder for 1 watch? Then be sure to view our collection of Benson Compact Single watch winders.