Benson Compact watch winder collection 2020
Posted on 8 October 2019 at 3:10 PM
Recently the Dutch watch winder brand Benson released its newest line of watch winders under the name Compact. These watch winders have a compact design, but offer all options to provide every automatic watch with energy. It does not matter if it is a Patek, Oris, Breitling, Tag Heuer or Panarai watch. The Benson Compact watch winders wind every automatic watch.
The Dutch Benson watch winders have become quite famous and are sold by more than 250 high-quality jewelers worldwide. The well-known Benson Black Series, launched in 2016, are very popular and a valuable addition to any watch enthusiast. The new Compact watch winders from Benson are simpler in nature and have a lower price, but they do offer the most useful functions for winding an automatic watch. This makes a watch winder also for watch lovers, who do not want to spend a lot of money on a watch winder, in reach.
Every automatic watch can be turned exactly as desired by means of the control panel. For example clockwise on 600 TPD or counterclockwise on 900 TPD. The flexible watch holder is suitable for almost any watch because it is adjustable. This allows larger and smaller watches to be placed in the Benson Compact watch winder. The watch holder clicks into the watch winder so that the watch is securely attached and cannot fall out.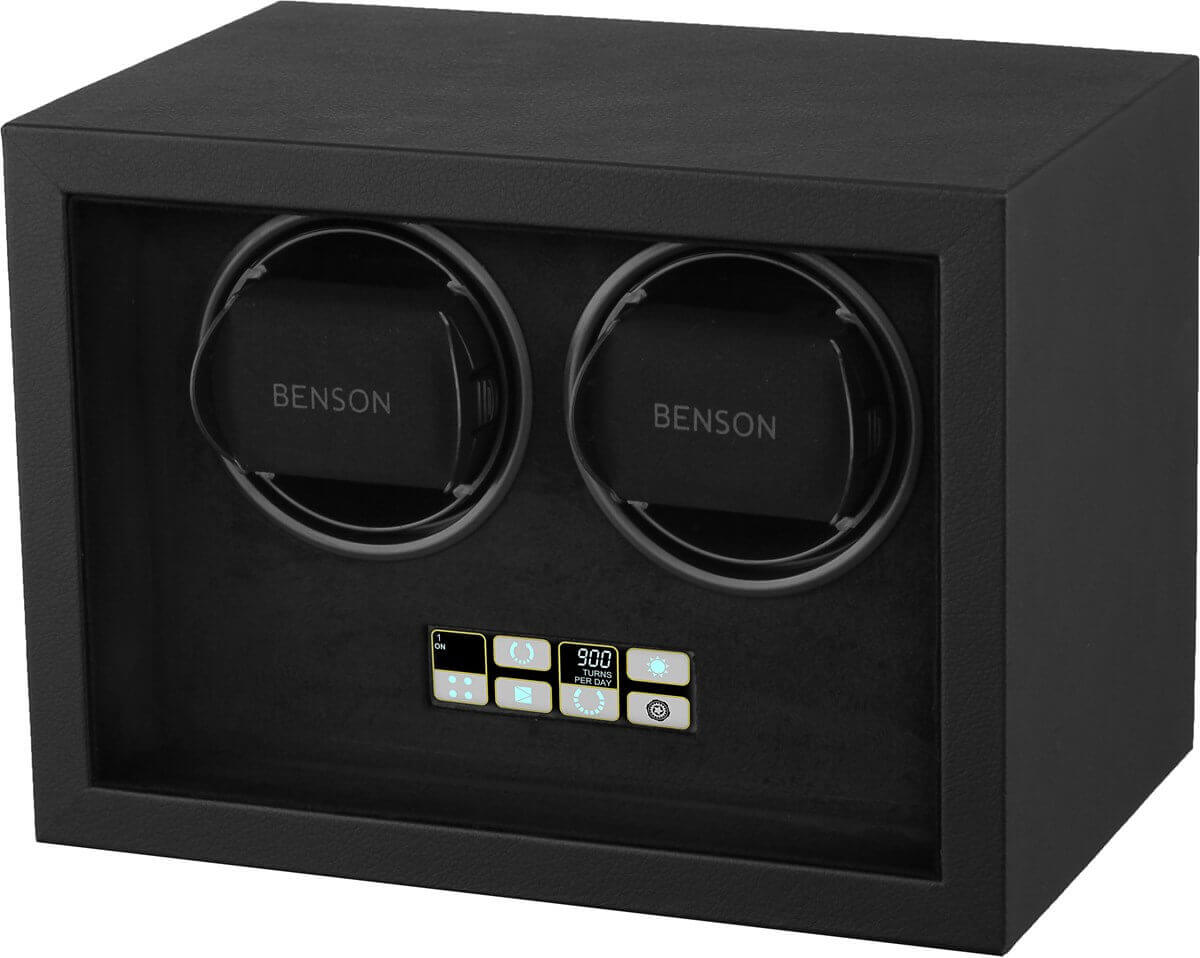 The compact design is an advantage. The watch winders can easily be taken along while traveling or even be placed in a safe. The Benson Compact watch winders for one watch are equipped with a battery function so that the watch winder can operate on mains power and on batteries. The Benson Compact watch winders for two watches do not have a battery function but do have LED lighting for a nice ambiance and a perfect view of the rotating watches. This model for two watches only works on mains power via the adapter.
The most important advantage of the Benson Compact watch winders is the attractive price in relation to the excellent quality. The prices start from just € 169.00 for a watch winder suitable for one watch. The model for two watches costs 249.00 euros. Every Benson Compact watch winder comes with 1 year warranty, manual and sturdy packaging. We supply all Benson watch winders, including the Benson Compact series, from stock.