Davosa watches
Posted on 23 May 2023 at 2:46 PM
The roots of several renowned watch brands lie in the watch country pur sang, the beautiful Switzerland. Watchmaking and the trade of the real watchmaker developed in a unique way in the Swiss Jura mountains, with which various appealing watch brands found their origin. Watches that are allowed to carry the Swiss made label must meet very high requirements and conditions. This means that with a Swiss watch you opt for top quality in combination with reliability and durability. Everything about a Swiss watch must meet the pinnacle of perfection. Swiss made timepieces are known as the absolute top in this area and therefore provide a very solid basis for any high-quality watch. The preference of many enthusiasts is therefore not for nothing that watches with a Swiss movement. You opt for quality, technical finesse and high-quality materials.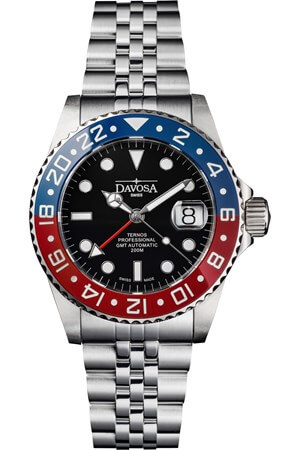 A special German watch brand whose roots also lie in Switzerland is the Davosa brand. In 1881, the first foundation for the brand was laid by Abel Frederic Hasler, who started making high-quality watches at the time. The passion for the profession was then passed on from father to son, with the brand never standing still in terms of development. In 1993, the brand actually started producing Davosa watches. Beautiful and high-quality watches, which were a real eye-catcher on the wrist and still are today. The further history of Davosa is long and impressive. Because the automatic watch became more and more popular and Davosa watches are of high quality and also offer interesting additional functionalities, the brand managed to gain more and more fame. In addition, Davosa offers various limited series of watches, so that with a watch from Davosa you always choose a truly unique piece. The knowledge and experience gained by the brand over the years have resulted in today's special Davosa collection. The Argonautic and Ternos models from Davosa in particular are very popular and loved by real enthusiasts.
In this article we would like to tell you more about a number of specific models from the Davosa collection. We start with the Davosa Ternos Ceramic GMT 161.590.06. This watch is equipped with a robust stainless steel watch strap, which closes with a folding clasp. The watch case is also made of stainless steel and has a thickness of 12 mm and a diameter of 40 mm. The dial of the watch is black in color and is surrounded by the sporty rotating bezel in red and blue. The watch is also equipped with sapphire glass, which is known as the best of the best. The Swiss made automatic movement (DAV 3032) with which this watch is equipped ensures that you can always count on your watch. The watch is also waterproof up to 200 meters, which is of course ideal for the real sports enthusiast. This watch also has a date display and a second hand. However, we are not there yet, because this model also offers luminous indicators for good visibility in the dark and a handy GMT function. All in all a very complete watch from Davosa, made of the best materials and equipped with a top quality movement!
A second watch from Davosa that we would like to take a closer look at for you is the Davosa Ternos Sixties 161.525.45. This Davosa watch has a completely different look than the aforementioned model. This model is equipped with a retro blue watch strap, made of top quality leather. The strap closes with a folding clasp. This gives the watch an extra luxurious look and also offers the best protection against loss. The watch case of this model is made of stainless steel and has a thickness of 12 mm and a diameter of 40 mm. The dial of this watch is also executed in a striking classic color blue. This also applies to the beautiful rotating aluminum bezel. The Davosa Ternos Sixties 161.525.45 is equipped with sapphire glass, so you can be sure that the glass will remain scratch-free for a long time. This Davosa watch is also equipped with a Swiss made automatic movement (DAV 3021), which ensures that you have a very accurate display of the time. With this watch you are not only always up to date, but the date magnifier ensures that you always have the correct date at hand. In addition, this watch offers a second hand and luminous indicators. With the Davosa Ternos Sixties 161.525.45 you opt for an absolutely unique piece. If you prefer high-quality watches with a retro look, this is an excellent choice!
BensonTrade has been an official Davosa dealer for over 15 years. You can order both mentioned models of the Davosa brand easily and safely from our webshop. In addition, we offer several other beautiful watches from the brand. As an official dealer of Davosa, we offer you the certainty of an authentic Davosa watch and the best service. So take a look at our beautiful offer now and make your choice!