Elysee watches with high discounts
Posted on 14 November 2023 at 2:28 PM
Watches have a great appeal to lovers of beautiful things. Almost everyone has a watch. Fortunately, there is a lot of choice and there is a suitable watch for everyone. You can think of classic watches, sporty watches, digital watches and even watches for people who are blind or have poor vision.
For the modern man, a beautiful watch is more than just a handy accessory to tell the time. It is an expression of personality and a true piece of jewelry to complete an outfit. Many people therefore pay the necessary attention to choosing a new copy. If you are looking for a high-quality luxury watch and do not want to pay too much, this is the article for you! We would like to introduce you to an exclusive watch brand that has its roots in Germany and that also distinguishes itself from other watch brands by putting innovation, user-friendliness and a bit of diversity high on the priority list.
We are talking about the well-known German watch brand Elysee, which knows how to appeal to a wide audience with an extensive and diverse collection of attractively priced watches. At Elysee you can find watches with a sporty and cool design, but also watches with a more classic character. In addition, the brand offers watches with a high-quality automatic movement (on movement) and watches with a quartz movement (with battery). Whatever your preference, Elysee certainly offers a suitable watch for you! Let's zoom in on the Elysee watches.
Although Elysee watches are available as standard at an attractive price, we currently offer interesting discounts on various models of the brand in our webshop. This means that you can now choose the well-known solid German quality and at the same time the best for your wallet. In this article we would like to tell you more about two different beautiful watches from the Elysee brand, both of which can be found at a discount in our webshop. The first exclusive watch that we would like to highlight in more detail is the Elysee Heritage II 18015. This is an Elysee watch with a modest and classic character, which due to its simplicity fits with almost any outfit. The watch has a beautiful leather watch strap in black. This watch strap closes with a buckle. The watch case of the watch is made of stainless steel and has a thickness of 11 mm and a diameter of 43 mm. The dial of the Elysee Heritage II 18015 is black in color, just like the watch strap, which makes the whole thing blend together beautifully and which is also very suitable for the calm design. The watch is also equipped with sapphire glass. The heart of this watch is formed by a high-quality quartz movement from the well-known brand Miyota (Miyota OS21). This ensures that you will always be very punctual. The watch is waterproof up to 30 meters. Finally, the Elysee Heritage II 18015 offers a date display and a seconds hand as well as a nice chronograph function.
The second watch from the Elysee collection that we think is definitely worth a look is also a model with a classic design. We are talking about the Elysee The Signature 80662. With this watch, Elysee combines a stylish black leather watch strap with a beautiful watch case in the color rose. The strap of this watch also closes with a buckle. The watch case of this model has a diameter of 42 mm and is 12 mm thick. The dial contrasts beautifully with the rose-colored watch case. This combination of colors makes this watch extra special and ensures that it always catches the eye when you have it on your wrist. The watch is also equipped with sapphire glass, which is known for being extremely strong. This ensures that scratches will not easily appear on the glass. The Elysee The Signature 80662 is also equipped with a high-quality quartz movement from the Seiko brand (Seiko/TMI VK64). Finally, this beautiful watch from Elysee offers a date display, second hand and a chronograph function and is waterproof up to 30 meters. In short, a very stylish watch of top quality, which is now also available at an extra affordable price.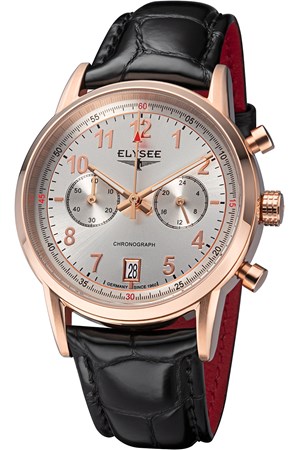 You can view both Elysee watch models mentioned in our webshop. If you would like to order one of these watches at a discount, this is easy and quick with us! Payment is possible with various secure payment methods, including iDeal, PayPal, credit card or regular bank transfer. We supply all Elysee brand models with a two-year warranty and a clear manual. Naturally, your new purchase will be delivered in a luxurious official box from the brand.
Do you choose an automatic watch from the Elysee brand? We supply a very extensive range of watch winders from various brands, which are also suitable for Elysee automatic watches. With us you can therefore opt for a completely complete picture if desired. View the options in our webshop now and choose your favorite watches! You will certainly not regret this, all products you find in our webshop are of very good quality and also extremely reliable. Take a quick look at the current Elysee watch collection.