Featured: Benson Swiss Series Double 2.20.CF watch winder
Posted on 21 October 2021 at 2:49 PM
Are you already familiar with the Dutch brand Benson? As a watch enthusiast, you have probably heard of this brand. Or maybe you have a friend, colleague or family member who has a Benson watch winder or watch box. Benson has become a well-known brand and distinguishes itself through high-quality products and beautiful designs. The collection of this brand consists of different series in various price ranges.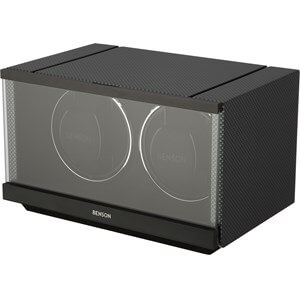 The watch winders from the Compact, Smart-Tech II and Black Series collections are equipped with Japanese motors. These motors are of excellent quality and will safely wind any automatic watch. Since the beginning of 2021, Benson also offers watch winders equipped with Swiss made motors and gearboxes. These models from under the Benson Swiss Series collection.
The Benson Swiss Series watch winders are very luxurious watch accessories of impeccable quality that are completely assembled in the Netherlands. With the Swiss made technique for optimal durability, this is a unique combination. The Benson Swiss Series watch winders are available for winding 1, 2, 3 and 4 automatic watches. In addition, each model is available in various materials and colours. For example, you can opt for a wooden or leather exterior. But you can also choose from different colors such as black, brown, blue, white, red and green. This allows you to choose exactly the watch winder that best suits your automatic watches and interior.
The Benson Swiss Series have an LCD control that allows you to select the winding program at the touch of a button. Of course, each watch can be set individually in terms of rotation direction and number of revolutions per day. This makes a Benson Swiss Series watch winder suitable for every brand and type of automatic watch. So you can easily wind your Breitling, Rolex, Longines, IWC or Oris watch in these watch winders.
The luxury of the Benson Swiss Series watch winders is reflected in the beautiful materials, high-quality finish and handy functionality. Each model has LED lighting and a glass door so that your watches are safe. The watch holder is flexible and can be individually adjusted to your watch. You click the watch holder into the watch winder, so that your watch is always well secured during winding. The Benson Swiss Series watch winders for 1 and 2 watches can also function on a set of batteries in addition to mains power. The 3 and 4 watch models only work on mains power via the supplied adapter.
We would like to highlight one special model from the Swiss Series collection. The Benson Swiss Series Double 2.20.CF watch winder is equipped with a carbon look case and therefore has a modern and luxurious look. This model is equipped with two Swiss made motors, each of which is individually adjustable. Due to the specially developed safety system, this motor disengages as soon as a watch is placed or removed. The Benson Swiss Series Double 2.20.CF watch winder is suitable for winding 2 automatic watches and is therefore a perfect model for the real enthusiast. You can operate the watch winder quickly and easily with a single button in the modern LCD screen. The materials chosen for the manufacture of this watch winder include particularly beautiful wood and mineral glass. The fabric inside also ensures that your watches are optimally protected against damage. In addition, the watch winder can be closed through the glass door, which ensures that dust and dirt do not stand a chance. All this ensures the preservation of your watches and makes this Benson Swiss Series Double 2.20.CF watch winder from Benson a very safe storage place for your watches.
This watch winder functions both with an adapter and on batteries. This makes it easy to take this watch accessory with you on a trip or to the office, for example. This also makes it possible to place the watch winder in a safe. The Benson Swiss Series Double 2.20.CF watch winder has built-in LED lighting that gives you a good view of your watches at all times.
This watch winder has a lot to offer. Its compact size makes it easy to place in almost any room. Moreover, you do not have to worry about annoying noises during the winding process, so that you can also use the watch winder at your workplace or in the bedroom. The watch winder has a modern, sleek and stylish appearance and will fit in almost any interior due to the fairly neutral color. Whatever automatic watches you own, the Swiss Series Double 2.20.CF from Benson will provide them with the necessary energy carefully and efficiently, so that you never have to worry about your watches stopping again.
As an official Benson dealer, we can provide you with the best service and aftersales. In addition, we can help you with all kinds of questions about watch winders or provide you with any advice if desired. With 15 years of experience in the field of watch winders, we can certainly be of service to you.
When you order the Benson Swiss Series Double 2.20 CF from us, you will receive a standard 3-year warranty. So you don't have to worry about unpleasant surprises and you can be sure that you will enjoy your purchase for a long time. In the webshop you pay easily and securely with credit card, iDeal, Paypal and bank transfer.