Iron Annie watches | Collection 2022
Posted on 11 January 2022 at 2:31 PM
Iron Annie is a German watch brand that is part of the company Pointtec, which also includes the Zeppelin brand. Pointtec is a company that with its watches knows how to take people back to days gone by, especially in the aviation industry. Iron Annie is certainly a very interesting brand for every watch enthusiast who also has a passion for aircraft and/or history. The name of the well-known brand comes from the JU52 aircraft with registration D-AQUI. At the time, it was christened Iron Annie by the Americans because of its reliability and robustness. We now see this reflected in the Iron Annie watches.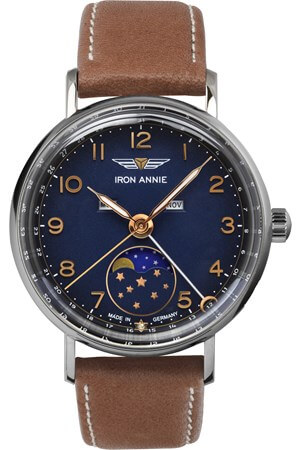 The Iron Annie collection knows how to serve enthusiasts with a diverse personal preference. This applies to both the appearance and the type of timepiece. The brand offers varying designs, but also various types of timepieces, namely automatic, mechanical and quartz movements of Swiss or Japanese manufacture. Every Iron Annie watch is handcrafted with the greatest precision in Germany. Germany is of course known as a country where very solid products come from and this certainly also applies to the Iron Annie watches. Iron Annie also offers watches with an extremely good price/quality ratio and because it is a smaller company, extra attention is paid to quality and finish. This is clearly reflected in every end product.
The Iron Annie collection is divided into different series. We will take a closer look at a watch from a number of these special series. We start with a watch from the popular Bauhaus series. The watches in this series are inspired by the Bauhaus art movement and are particularly notable for the simple and minimalist designs and thin watch cases. There is also variation within this series in terms of appearance and timepieces. The watch that we would like to specifically name from this series is the Iron Annie Bauhaus 5096-2. This watch is available with a leather watch strap or a Milanese stainless steel watch strap, which also applies to all Iron Annie Bauhaus watches. If you opt for a leather watch strap when purchasing, it is made in the color black with black stitching as well. This then closes with the aid of a buckle closure.
The dial of the Iron Annie Bauhaus 5096-2 is black in color and has gold and white accents. With regard to the glass, K1 mineral glass has been chosen here and the watch case is made of stainless steel. Furthermore, it is 12 mm thick and has a diameter of 41 mm. The watch is water resistant to 50 meters and is equipped with a quartz movement from the Swiss brand ETA. Finally, this watch has some nice extra functionalities to offer. The watch is equipped with a seconds hand, date display, luminous indicators and, as icing on the cake, a beautiful chronograph function.
The second model we describe is from another series by iron Annie. It is the Iron Annie Jubilaums model 5902-2. The watches from the Jubileumsmodell series are specially designed for the 30th anniversary of Pointtec and therefore extra special. Within this series we only find watches with a mechanical movement. The Iron Annie Jubilaumsmodell 5902-2 is also available with a particularly beautiful black leather strap or a Milanese stainless steel watch strap. The dial of this watch is black with white hands. The watch case is made of stainless steel and has a thickness of 13 mm and a diameter of 43 mm. This watch closes with a buckle clasp and is water resistant up to 50 meters. Furthermore, this watch is fitted with very strong sapphire glass. The mechanical movement comes from the ETA brand. This watch also offers a date display, second hand, luminescent indicators and a power reserve indicator.
The last model from the Iron Annie collection that we highlight is the Iron Annie Amazonas 5977-4. The watch comes from the Iron Annie Amazonas series. This watch has a classic and somewhat retro look, with the combination of a brown leather strap and classic blue dial. The gold-coloured accents and a bright shade of blue in which the moon phase indication is partly carried out give the dial a stylish and elegant look. The watch case here is also made of stainless steel and has a thickness of 10 mm and a diameter of 36 mm. A quartz movement has been chosen for this watch. In addition to the moon phase display, this watch offers a date display, second hand and luminous indicators.
In short, 3 models from Iron Annie with a striking appearance, of high quality and with a diversity in the type of timepiece. Of course we offer many other Iron Annie models in our webshop.
BensonTrade is an official dealer of Iron Annie and we supply almost every watch from this German brand from stock. This way we can serve you extra quickly and you can quickly enjoy your purchase.