Italian class - Meccaniche Veneziane Nereide watch
Posted on 24 March 2020 at 12:23 PM
Looking for a quality watch with Italian class? Then Meccaniche Veneziane is a great watch brand for you! This Italian watch brand produces extremely high quality watches with automatic movements. The Swiss made watches from Meccaniche Veneziane are equipped with Swiss quality movements. The combination of Swiss quality and Italian design makes this watch brand unique and interesting.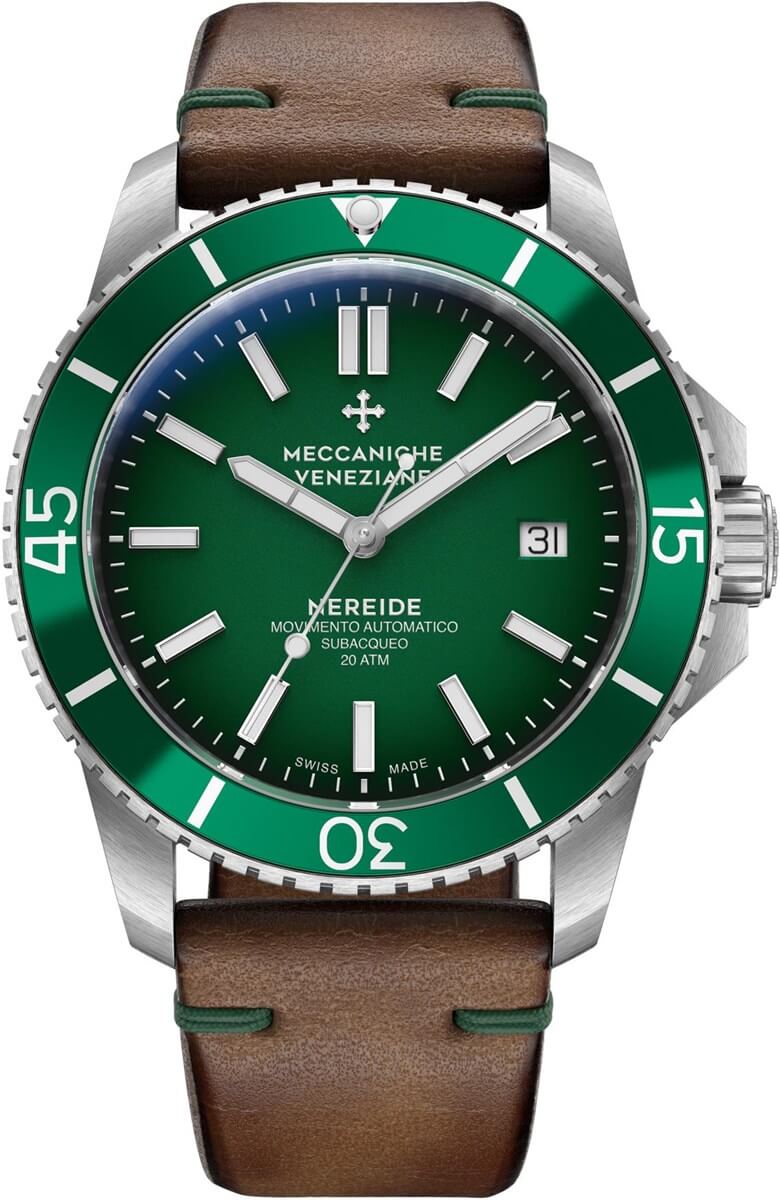 The Meccaniche Veneziane watch collection consists of modern and sturdy watches with a kind of Rolex look. One of the things that is striking is the use of various colors and materials within the collection. Characteristic is also the beautiful finish of the products. The Meccaniche Veneziane collection is divided into several series; Nereide, Arsenale and Redentore. A series that stands out within the collection is the Meccaniche Veneziane Nereide series. These watches actually offer everything a modern and sporty watch should have. The main advantages of these watches are the Swiss made designation and a very competitive price!
The Nereide watches by Meccaniche Veneziane have a lively use of color. Colors such as red, blue and green provide a fresh and sporty look. The modern designs feature a beautiful soft leather watch strap that is handmade. The different leathers used for the Meccaniche Veneziane watches come from Veneto and Tuscany. The combination of the Swiss automatic movement, the stainless steel watch case, the strong sapphire glass and the leather watch straps result in a quality watch, with a modern and sporty look, of very high quality.
The Meccaniche Veneziane Nereide watches are waterproof up to two hundred meters. Other great features of these models are the screw-down crown, rotating bezel, luminous indicators and date display. In addition, they are equipped with C1 Swiss Superluminova. The Meccaniche Veneziane Nereide Ardesia and Rubino models are also equipped with Côtes de Genève. These last models are also sold with a nice discount, since this is the 2018 model line.
Then there is also the Meccaniche Veneziane Nereide Jubilee series. The watches within this series have the same lively use of color as the Meccaniche Veneziane Nereide models. However, instead of a leather strap, these models have a sturdy stainless steel watch strap. These models are also waterproof up to two hundred meters. The Meccaniche Veneziane collection also has the Nereide Ceramic models. Here we see models with a black leather watch strap and a black dial. These models are equipped with a ceramic bezel. Last but not least is the Meccaniche Veneziane Nereide GMT series. Here we see watches with the beautiful and popular GMT function, again striking by a lively use of color.
We are official dealer of Meccaniche Veneziane. When you choose a watch from Meccaniche Veneziane, it comes with a two-year warranty. In addition, you will receive the watch in a unique wooden watch box, which is made by an artisanal woodworking company in Friuli. In this region, the craft of woodworking is an important part of the culture. With such a beautiful watch box, the reception of your watch is extra special!
Naturally, a certificate and manual are included.