Meccaniche Veneziane Nereide - Sale!
Posted on 20 November 2020 at 11:04 AM
Are you a fan of a beautiful automatic watch? Then this is an interesting article for you! In this article we want to highlight a special watch brand that only uses highly skilled professionals for the production of the watches. We are talking about the Italian watch brand Meccaniche Veneziane. This very special brand was founded by the brothers Alessandro and Alberto. During a visit to the bell tower of Venice, they fell under the spell of the clock. That is where the idea of ??this watch brand was born. At the time, they founded Meccaniche Veneziane with a purpose. They wanted to bring back the old Venetian watch tradition to the 21st century. Even the brand logo comes from Venice. This is inspired by the cross on the Saint Mark watchtower. This cross is seen in Venice as the symbol of timekeeping.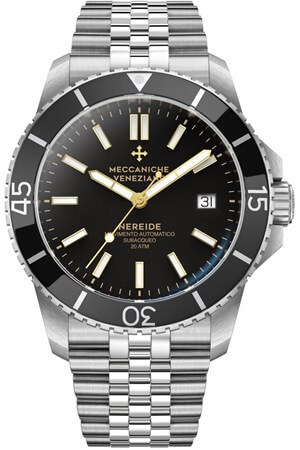 The Meccaniche Veneziane watches are of extremely high quality and executed in stylish Italian design. What is also striking is the eye for detail that is involved in the manufacture of these watches. A Meccaniche Veneziane watch stands for Italian class, in combination with a very high quality and modern technology. Meccaniche Veneziane goes for the best of the best and is therefore one of the top brands in Italy. Each watch is extensively inspected once again when they are ready, so that only a perfect watch leaves the factory. Meccaniche Veneziane watches also offer a very good price/quality ratio. These watches are not only of high quality, but also very affordable.
In the collection of Meccaniche Veneziane, we see different series of watches. This concerns the Redentore and Arsenale series, but the most popular and famous series within the collection are Meccaniche Veneziane Nereide watches. These Nereide watches are characterized by modern and sporty designs which are reminiscent of the designs of Rolex. They are equipped with beautiful leather watch straps, with a beautiful stitching detail as an accent, which makes them very recognizable. We see these watch straps in various beautiful colors, such as various shades of brown and gray, black and green. The leather used to make these watch straps comes from Veneto and Tuscany. The fact that Meccaniche Veneziane watches are provided with these high-quality vintage leather straps is thanks to the knowledge and skills of local craftsmen.
Regarding the dial of the Meccaniche Veneziane watches, we see a lot of black in combination with striking colors and accents. Think of blue, green and red for example. In addition to the leather that is used for the watch straps, other high-quality materials such as stainless steel for the watch case and sapphire glass are used. The Meccaniche Veneziane Nereide watches are waterproof up to 200 meters and are equipped with various valuable extra functionalities. Think of a screw-down crown, rotating bezel, luminous indicators and Superluminova, which lights up in the dark. The watches are also complete with date display and second hand.
As an extra icing on the cake, Meccaniche Veneziane watches come in a beautiful wooden watch box, which is a work of art in itself. These watch boxes are manufactured in Friuli, by a traditional woodworking company. This watch box completes the picture. With a Meccaniche Veneziane Nereide watch you have a very complete watch that will certainly attract attention on your wrist. In addition, the story behind the brand and the fact that artisans in different areas contributed to the watches also play a role. A true enthusiast will certainly not be insensitive to this.
Where the watches within the Meccaniche Veneziane collection were previously always equipped with Swiss automatic movements, Meccaniche Veneziane now also offers these watches with an automatic Seiko movement. You now have the opportunity to purchase a watch from the latest series with Swiss made movements for an extra nice price. In our webshop you will find a beautiful collection of Swiss made Nereide watches with an attractive discount. The Italian watches from Meccaniche Veneziane have always been affordable, but with these discounted models of the Nereide series you now have the chance to purchase a gem for an extra competitive price! The combination of Italian class and Swiss made quality is a golden opportunity. Finally, the Swiss timepieces are known for being very reliable, solid and durable and of course you want to be able to enjoy your beautiful watch for a long time. Interested? Do not wait too long, because these are the latest models!
As an official dealer, BensonTrade has a lot of experience with automatic watches. You can easily make your choice on our website thanks to the clear photos and extensive information. When you choose to order a Meccaniche Veneziane watch from BensonTrade, you will receive it at home with a 2-year warranty and manual.