MeisterSinger Salthora Meta X SAMX902GR watch
Posted on 26 June 2020 at 11:21 AM
The watch brand MeisterSinger is, as the name suggests, an absolute "Meister" (master) in the field of high end watches. The brand was founded in 2001 by Manfred Brassler. He saw it as a challenge to design watches with their own original design. This German watch brand has since been producing watches that are unique in terms of design and quality, which is one of the reasons why it is very popular with watch enthusiasts. Watches originating from Germany are generally known for their reliability and durability and this is no different with this masterful brand. MeisterSinger also distinguishes itself with its own identity, because the watches are equipped with a single hand. By applying this special way of time display, together with a unique index and the strongly curved glass, MeisterSinger is absolutely unique in its kind. Manfred Brassler's mission has certainly succeeded.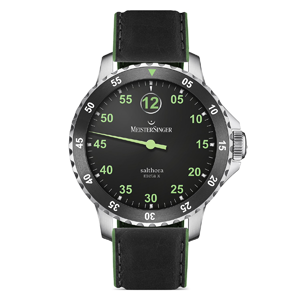 When you buy a MeisterSinger watch, you can be sure that you will get a special piece of high quality that you will enjoy for a long time. In addition, MeisterSinger offers its watches at competitive prices, which also guarantee a good price/quality ratio.
In the extensive collection of MeisterSinger we find watches with automatic movements of particularly good quality. A beautiful example of a top watch within this collection is the MeisterSinger Salthora Meta X SAM902GR. This is a very sporty watch in terms of appearance. The MeisterSinger Salthora Meta X has a black dial with green accents, also the leather watch strap is black. This color combination makes the look of this watch not only sporty, but also tough and robust.
The watch case of this watch is made of stainless steel, has a thickness of 10 mm and a diameter of 43 mm. The watch is also equipped with sapphire glass, which is very strong. In addition, the MeisterSinger Salthora Meta X is equipped with a Swiss quality movement from the Sellita brand, which has a power reserve of 38 hours. The watch also offers various extras, such as a rotating bezel and luminous indicators. As icing on the cake, the watch is waterproof up to 200 meters.
In our online store you will find a very nice range of MeisterSinger watches. The MeisterSinger Salthora Meta X is one of them. When you order this watch, or any other watch from this niche brand you will receive it with a two-year warranty and manual in a luxury box at home. We ship worldwide and you can pay by creditcard, Paypal or bank wire.