New generation of Benson Smart-Tech II watch winders
Posted on 5 January 2021 at 5:49 PM
The Dutch watch winder brand Benson has been producing watch winders in various series since 2010. The popular Smart-Tech II series has been on the market since 2011 and a success worldwide. Mainly because this series combines high-quality technology with a very attractive price. Now Benson has presented the very latest Smart-Tech II models. This new generation of watch winders meets all the requirements that a watch enthusiast sets for winding his or her automatic watches.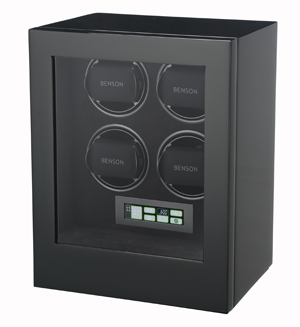 The new Benson Smart-Tech II version 2021 watch winders will be available from the end of January 2021 and are equipped with durable Japanese motors that also rotate almost silently. Each motor drives one watch holder, making each watch individually adjustable in terms of direction of rotation and number of revolutions per day. The Benson Smart-Tech II watch winders are available for 2, 4 and 6 automatic watches.
Because these watch winders are fully adjustable, they are suitable for winding any automatic watch. You wind watches from brands such as Breitling, Omega, Oris, Seiko or Rolex quickly and professionally, making them always ready to wear. A stationary watch where you have to set the time and date correctly and wind it up manually is a thing of the past.
All Benson Smart-Tech II watch winders have a modern design, touchscreen panel, door with glass, LED lighting and are painted black. On the inside they are covered with soft fabric to protect the watches. An extra storage drawer is also included, so you can easily store other watches and jewelry in the watch winder.
The watch holders have a click system with which you click them into the watch winder. As a result, the watch can never fall out of the watch winder while it is running. The watch holders are also flexible and adjustable in size, making them suitable for smaller and larger watches. So you can wind men's watches as well as ladies watches in the Benson Smart-Tech II watch winders.
The benefits of the Smart-Tech II watch winders from Benson are numerous. The excellent price/quality ratio, beautiful finish and 2 year warranty are important aspects that make this series of watch winders so very popular.
Each Benson Smart-Tech II watch winder comes in a chic cardboard packaging with manual and adapter. These new watch winders will be available from stock at the end of January. Order your new Benson Smart-Tech II watch winder soon in our webshop so that you are assured of one of the best watch winders on the market.