Paul Design Gentlemen 1 Carbon Fibre watch winder
Posted on 12 September 2023 at 2:23 PM
For the true watch enthusiast, nothing beats a beautiful automatic watch. After all, a watch with an automatic movement expresses the work of the real watchmaker in the purest way.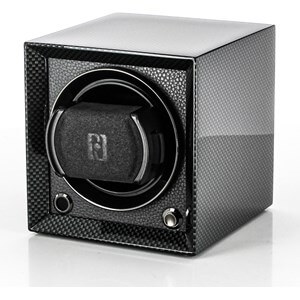 However, there is something to take into account with an automatic watch, the watch functions through movement and not with the help of a battery. This means that the movements of your wrist when wearing the watch automatically ensure that your watch is wound. This way he won't come to a standstill. However, when you don't have your watch on your wrist, this form of movement is missing. This can cause your watch to stand still and is very undesirable. Not only can this cause inaccuracies in the time display, you also have to reset your watch every time this happens. Consider not only the time, but also the date, the moon phase and a possible GMT function.
In short, you always want to avoid your automatic watch coming to a standstill. An indispensable accessory is available for this, namely a watch winder. A watch winder provides the necessary movement for your watch when you are not wearing it, usually through rotation. This is a perfect solution to prevent downtime. Moreover, with a good watch winder you immediately have a safe and stylish storage place for your automatic watch.
When you look for a watch winder that is suitable for your automatic watch, you can choose from various brands that offer high quality. In addition, there are also watch winders that are much cheaper, but not of the desired quality. The watch winder brand Paul Design, which comes from the UK, wanted to fill the gap between the cheap Asian watch winders and the much more expensive watch winders from renowned brands. The people at Paul Design aimed to produce high-quality watch winders at a competitive price. The Paul Design collection is very varied and offers watch winders for the enthusiast with a single automatic watch, but also for the real collector. For those enthusiasts who are looking for a watch winder that is suitable for winding a single watch, we would like to highlight a specific model of watch winder from the Paul Design brand. We are talking about the Paul Design Gentlemen 1 Carbon Fiber.
The Paul Design Gentlemen 1 Carbon Fiber is small in size and therefore easy to install and move. Taking it to the office or when traveling is also a good option, especially because this watch winder can function not only with an adapter, but also on a battery. This watch winder from Paul Design is made of good quality wood and has a carbon fiber look. This gives the watch winder a luxurious look. The Paul Design Gentlemen 1 Carbon Fiber is equipped with a top-quality Japanese motor. This motor ensures that your automatic watch is supplied with the required energy not only in an energy-efficient manner, but also silently. You can therefore place this watch winder with peace of mind in places where silence is desired, such as your bedroom or your office. The watch winder is also very easy to set. You can change the settings of the watch winder with a single press of a button. The direction of rotation and the number of rotations per day can be set very quickly and easily. This ensures that your automatic watch is wound in exactly the right way. This makes the Paul Design Gentlemen 1 Carbon Fiber suitable for winding any type and brand of automatic watch. The watch winder is also equipped with overwind protection, which protects your watch against overvoltage. With this watch winder from Paul Design you can count on a safe, mild and efficient way of winding your watch.
Paul Design is known for the good price/quality ratio of the watch winders from their collection. You get a lot for your money when you purchase this watch winder. This gives you everything you need to provide your automatic watch with energy and you can also store your watch safely in it, without having to pay the top price for it. This watch winder is highly recommended if you do not want to have to compromise on quality, but want or can spend a smaller budget.
If you want to purchase the Paul Design Gentlemen 1 Carbon Fiber or another high-quality watch winder from this brand, you can do so with confidence in our webshop. As an official dealer of Paul Design, we offer you the best service, latest collections and the best prices. You will also receive the Paul Design Gentlemen 1 Carbon Fiber from us with a two-year warranty. Choose the best for your automatic watch and for your wallet, choose Paul Design!