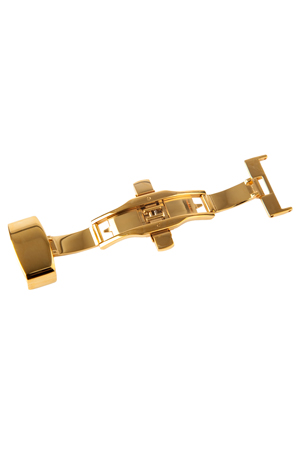 Benson
Vouwsluiting Luxe 24mm Goud
De Benson vouwsluitingen zijn vervaardigd van uiterst sterk edelstaal waardoor een hoge kwaliteit gewaarborgd wordt. De Luxe varianten hebben dubbele drukknoppen en een extra veiligheidssysteem. Op deze manier kunt u uw horloge nooit verliezen, en gaat de sluiting alleen open wanneer u dat wilt. U kunt kiezen uit verschillende maten zoals 18mm, 20mm, 22mm en 24mm. Daarnaast zijn er vouwsluitingen in de kleuren edelstaal, goud en rosé. De Benson vouwsluitingen zijn geschikt voor elke lederen horlogeband en zijn een prachtige accessoire voor uw horloge. Dit type vouwsluitingen kosten bij de juwelier rond de 60,00 euro.
Official dealer
BensonTrade is official dealer of many brands.
Free shipping
Your order will be shipped for free within The Netherlands.
30 day trial
Tryout your watch or watch winder for 30 days? No problem!
Discount system
Save between 5% and 12,5% on your next order!
Show shipping rates for:
Free via DPD (1 business day)
€ 7 insured via DPD (1 business day)
Delivery time
1 to 3 business days
product properties and specs
Specifications
Remark:
Goudkleurig
Dubbele drukknoppen
Dubbele veiligheidssluiting
Hoogwaardig edelstaal
Material:
Stainless steel
Size:
24mm
Review by Dhr. P. Bouwer from Huizen
Submitted on: 26-11-2016 at 6:34 PM
Order date: 17-11-2016 at 4:01 PM
Review by Dhr. E. Jaars from Hoorn
Submitted on: 15-5-2016 at 5:04 PM
Order date: 10-5-2016 at 8:55 AM
Review by Dhr. R.G. ten Cate from Kerkdriel
Submitted on: 16-4-2016 at 10:12 PM
Order date: 13-4-2016 at 7:25 AM
Review by Dhr. W. Markovic from Utrecht
Submitted on: 3-12-2015 at 10:15 AM
Order date: 25-11-2015 at 12:28 PM
Review by Dhr. E. van der Meern from Houten
Submitted on: 31-7-2015 at 12:14 AM
Order date: 28-7-2015 at 1:27 PM
Mijn bestelling werd heel snel uitgeleverd. De site is in orde, de prijzen en merken ook. Leuk bedrijf om later nog een keer iets te kopen.
Review by Mevr. J. Hermsen from Oss
Submitted on: 18-4-2015 at 4:02 PM
Order date: 6-4-2015 at 11:40 AM
Review by Dhr. D. Roek from IJmuiden
Submitted on: 9-9-2014 at 12:14 PM
Order date: 31-8-2014 at 11:47 PM
Review by Dhr. H. de Jager from Gorinchem
Submitted on: 25-12-2013 at 10:27 PM
Order date: 21-12-2013 at 3:41 PM
Prettige Kerstdagen en bedankt voor de vlindersluiting.
Review by Dhr. R.J. Steen from 's Hertogenbosch
Submitted on: 27-7-2013 at 7:51 AM
Order date: 23-7-2013 at 9:43 AM
Goede website met mooie horloges. Ik heb een vouwsluiting gekocht en die ziet er goed uit en voelt solide aan.
Review by Dhr. V. Prinsen from Kersteren
Submitted on: 9-5-2013 at 5:56 PM
Order date: 5-5-2013 at 4:05 PM
Review by Mevr. L. Nabben from Hendrik Ido Ambacht
Submitted on: 14-4-2013 at 8:37 AM
Order date: 5-4-2013 at 12:56 AM
Review by Dhr. F. Reveille from Nuenen
Submitted on: 15-6-2012 at 12:12 PM
Order date: 12-6-2012 at 10:43 AM
Review by Dhr. Krul from Barendrecht
Submitted on: 14-3-2012 at 4:56 PM
Order date: 16-2-2012 at 10:05 PM
Zeer snelle levering en precies zoals de foto. Perfect.
Review by Dhr. M. van Ooijen from Tiel
Submitted on: 27-2-2012 at 12:27 PM
Order date: 23-2-2012 at 7:14 PM
Review by Dhr. A.G. Kleinink from Haarlem
Submitted on: 10-5-2011 at 4:14 PM
Order date: 7-5-2011 at 12:27 PM