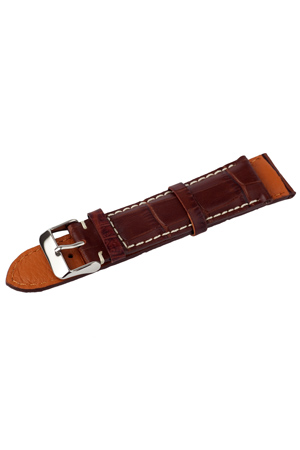 Benson
Kalfsleder Donkerbruin 22mm
Benson watchstraps have been made of high quality leather which guarantees a long service-life, and so you will enjoy your strap for a long time. The flexible leather offers very much personal comfort and it is weather-proof and able to resist perspiration. There are Benson watchstraps in several colours and sizes. Every strap has a perfect finishing off and can be attached to your watch at once. As a practical accessory you may choose for a folding-closing. A folding-closing is a luxury closing which makes opening the strap easier. Benson folding-closings are applicable to all leather watchstraps.
Official dealer
BensonTrade is official dealer of many brands.
Free shipping
Your order will be shipped for free within The Netherlands.
30 day trial
Tryout your watch or watch winder for 30 days? No problem!
Discount system
Save between 5% and 12,5% on your next order!
Show shipping rates for:
Free via DPD (1 business day)
€ 7 insured via DPD (1 business day)
Delivery time
1 to 3 business days
product properties and specs
Specifications
Gesp:
Yes
Buckle:
Yes
Material:
Leather
Color:
Brown
Size:
22mm
Review by Dhr. B.G.E. Vos from Den Haag
Submitted on: 2-8-2016 at 10:54 PM
Order date: 17-6-2016 at 9:43 PM
Review by Dhr. V. Caspers from Loosdrecht
Submitted on: 23-1-2016 at 12:04 PM
Order date: 20-1-2016 at 5:32 PM
Review by Mevr. C. Zhi from Den Haag
Submitted on: 2-4-2015 at 8:10 PM
Order date: 30-3-2015 at 11:43 AM
Review by Mevr. J. Wibberink from Eindhoven
Submitted on: 10-10-2014 at 7:46 PM
Order date: 6-10-2014 at 12:13 PM
Review by Dhr. R. Wielema from Dronten
Submitted on: 23-7-2014 at 2:18 PM
Order date: 11-7-2014 at 3:27 PM
Review by Dhr. K. Biessels from Renkum
Submitted on: 3-1-2014 at 7:20 PM
Order date: 29-12-2013 at 2:16 PM
Review by Dhr. R. Strik from Bemmel
Submitted on: 22-12-2013 at 4:22 PM
Order date: 2-12-2013 at 1:50 PM
Review by Dhr. F. Kerstens from Wijchen
Submitted on: 9-7-2013 at 8:23 AM
Order date: 5-7-2013 at 3:50 PM
De bandjes zijn van mooie kwaliteit. Niet te stug en niet te soepel. De prijs is meer dan redelijk. Chapeau!
Review by Dhr. H.C.G. van der Kerk from Beesel
Submitted on: 15-9-2011 at 11:35 AM
Order date: 13-9-2011 at 9:17 AM
Ik heb de horlogeband ontvangen, en hij is helemaal goed. Dank.
Review by Dhr. Groefsema from Utrecht
Submitted on: 8-5-2011 at 7:30 PM
Order date: 14-4-2011 at 11:27 AM
Review by Dhr. A. Sippenmans from Venlo
Submitted on: 17-4-2011 at 4:34 PM
Order date: 6-4-2011 at 6:13 PM
Goede kwaliteit - betrouwbare shop= 3e aankoop in één jaar.
Review by Dhr. S. Dokkers from Grave
Submitted on: 21-1-2011 at 11:07 AM
Order date: 19-1-2011 at 3:43 PM
Afspraken worden nagekomen en dat vind ik belangrijk. De horlogeband zou dezelfde middag nog verzonden worden en dat is inderdaad gebeurd. Het bandje is van een goede kwaliteit; stevig maar toch soepel.
Review by Dhr. M. Grevelmans from Helmond
Submitted on: 8-1-2011 at 1:00 PM
Order date: 4-1-2011 at 1:00 PM
Ik wilde de verschillen tussen het kalfsleder en krokodil weleens in het echt zien, dus heb ik ze beiden besteld. De krokodillen horlogeband is wel bijzonder; heel soepel en erg licht. De kalfslederen band is zeker niet slecht maar wat stugger (zal wel verdwijnen als ik het draag). Voor allebei de bandjes zijn de prijzen allerzins redelijk, en zelfs inclusief bezorgkosten.
Review by Dhr. Lardenoye from Maastricht
Submitted on: 3-12-2010 at 7:47 PM
Order date: 29-8-2010 at 8:53 PM
Product gekregen, bleek niet te werken. Terug gestuurd tot op heden 3 maanden later geen werkend horloge terug ontvangen Slecht
Response BensonTrade:
Wij hebben enige tijd na de bestelling en levering dit horloge retour ontvangen. Bij ons is het horloge onderzocht en geretourneerd naar de fabriek. Hier is het gerepareerd. Het wordt momenteel getest door ons en bij goedgebevinden binnen twee werkdagen naar de klant geretourneerd. Wij betreuren het defect, echter doen onze uiterste best onze klant van een perfect werkend horloge te voorzien.
Review by Dhr. B.L. van Leeuwen from Sliedrecht
Submitted on: 27-10-2010 at 8:47 PM
Order date: 26-10-2010 at 2:06 PM
Jullie zijn wel erg snel met verzenden hoor. Ik kon niet echt kiezen welke kleur bruin ik beter vond passen bij mijn horloge dus heb ik ze allebei genomen. De prijs voor dit soort banden is erg aantrekkelijk. Bij een beetje juwelier betaal je al gauw het dubbele.
Review by Dhr. Albers from Enschede
Submitted on: 26-10-2010 at 12:29 PM
Order date: 20-10-2010 at 2:15 PM
Zeer nette afhandeling; ontvangstbevestiging, bericht wanneer het verstuurd is, snelle levering, netjes verpakt.
Review by Dhr. G.G.J. Jop from Kerkrade
Submitted on: 19-10-2010 at 9:39 PM
Order date: 14-10-2010 at 2:56 PM
Ik heb gelijk maar een watchwinder en horlogebandje besteld. De watchwinder is al goedkoop en op het bandje kreeg ik nog extra korting. Betalen kan via Ideal zodat mijn bestelling snel op de post kon. Enige nadeel is misschien wel het te grote aanbod maar ik kan begrijpen dat anderen dit weer fijn vinden.
Response BensonTrade:
U kunt eenvoudig zoeken in onze grote collecties door gebruik te maken van de uitgebreide zoekfunctie. Hiermee kunt u snel en gemakkelijk dat product vinden wat u zoekt.
Review by Dhr. A. op de Berg from Heemskerk
Submitted on: 7-10-2010 at 11:07 PM
Order date: 5-10-2010 at 12:31 PM
Deze webshop verstuurt lekker snel.
Review by Dhr. J. Koenen from Rosmalen
Submitted on: 4-9-2010 at 4:44 PM
Order date: 1-9-2010 at 12:58 PM
Een schitterende horlogeband en dito sluiting. Afwerking van de bestelling is gewoon erg goed en snel.