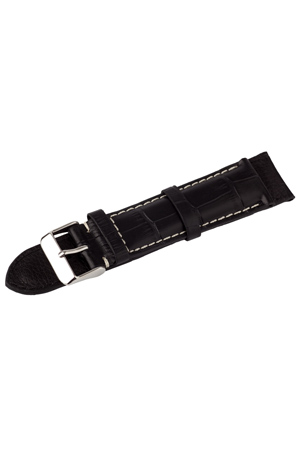 Benson
Kalfsleder Zwart 18mm
Benson watchstraps have been made of high quality leather which guarantees a long service-life, and so you will enjoy your strap for a long time. The flexible leather offers very much personal comfort and it is weather-proof and able to resist perspiration. There are Benson watchstraps in several colours and sizes. Every strap has a perfect finishing off and can be attached to your watch at once. As a practical accessory you may choose for a folding-closing. A folding-closing is a luxury closing which makes opening the strap easier. Benson folding-closings are applicable to all leather watchstraps.
Official dealer
BensonTrade is official dealer of many brands.
Free shipping
Your order will be shipped for free within The Netherlands.
30 day trial
Tryout your watch or watch winder for 30 days? No problem!
Discount system
Save between 5% and 12,5% on your next order!
Show shipping rates for:
Free via DPD (1 business day)
€ 7 insured via DPD (1 business day)
Delivery time
1 to 3 business days
product properties and specs
Specifications
Extra:
Wit stiksel
Gesp:
Yes
Buckle:
Yes
Material:
Leather
Color:
Black
Size:
18 mm
Review by Dhr. Y. Weggelaar from Venlo
Submitted on: 30-12-2015 at 8:51 PM
Order date: 25-12-2015 at 7:33 PM
Mijn complimenten voor hoe jullie werken.
Review by Dhr. O. van den Berg from Terneuzen
Submitted on: 15-3-2015 at 5:37 PM
Order date: 11-3-2015 at 6:13 PM
Review by Dhr. G. Peer from Lelystad
Submitted on: 13-8-2014 at 9:56 AM
Order date: 10-8-2014 at 5:31 PM
Review by Dhr. P. Snoei from Lelystad
Submitted on: 1-12-2013 at 4:41 PM
Order date: 26-11-2013 at 7:55 PM
De enveloppe was deels verregend...hoe kan dit? De horlogeband was gelukkig nog goed en is erg mooi.
Response BensonTrade:
De enveloppe behoort u in 100% conditie te bereiken. Wellicht is er iets mis gegaan tijdens de bezorging. Wij zullen dit neerleggen bij PostNL en u hierover informeren.
Review by Dhr. S. van de Water from Castricum
Submitted on: 17-7-2013 at 7:33 PM
Order date: 11-7-2013 at 10:16 AM
Review by Dhr. V. Robijn from Leiden
Submitted on: 1-1-2013 at 6:56 PM
Order date: 27-12-2012 at 10:08 PM
Review by Mevr. W. van der Hout from Nieuwegein
Submitted on: 23-8-2011 at 7:19 PM
Order date: 19-8-2011 at 10:08 AM
Goed adresje voor horlogebandjes. Bij veel juweliers heb je weinig keus en zijn de prijzen duurder. De gratis verzendkosten zijn makkelijk en drijven de kosten niet onnodig op.
Review by Dhr. T.G. van Schaarderen from Eindhoven
Submitted on: 30-7-2011 at 4:32 PM
Order date: 25-7-2011 at 8:14 PM
De prijs en de kwaliteit zijn goed in orde.
Review by Dhr. P.A.L. van der Heesters from Epe
Submitted on: 15-8-2010 at 8:16 PM
Order date: 11-8-2010 at 9:33 PM
Ik ben al ruim twee jaar klant bij deze webwinkel en al mijn bestellingen zijn naar volle tevredenheid bezorgd. De kwaliteit van de producten (1x Benson Watchwinder C2-C en 1x Perigaum Class AA) voldoet aan de verwachtingen en hetgeen beschreven staat op de website.