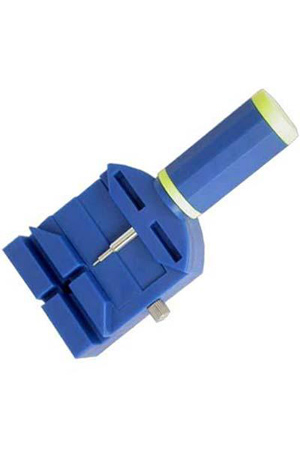 Benson
Band tool
BensonTrade offers you a comprehensive collection of tools for watches. With these tools you may service your watch and adapt it yourself. You may choose for a tool to shorten the strap, a basic set of tools and a luxury set of tools. The watch tools are manufactured of strong materials, a first class finishing off and they are extremely suitable to service your watches.
Official dealer
BensonTrade is official dealer of many brands.
Free shipping
Your order will be shipped for free within The Netherlands.
30 day trial
Tryout your watch or watch winder for 30 days? No problem!
Discount system
Save between 5% and 12,5% on your next order!
Show shipping rates for:
Free via DPD (1 business day)
€ 7 insured via DPD (1 business day)
Delivery time
1 to 3 business days
product properties and specs
Specifications
Material:
Synthetic
Capacity:
Watchstrap tool
Review by Dhr. B. Kanters from 's Hertogenbosch
Submitted on: 2-2-2016 at 10:28 AM
Order date: 28-1-2016 at 5:12 PM
Review by Dhr. G. Tulp from Den Helder
Submitted on: 1-1-2016 at 7:12 PM
Order date: 22-11-2015 at 10:28 PM
Review by Dhr. D. Frederiks from Arnhem
Submitted on: 6-9-2015 at 3:41 PM
Order date: 3-9-2015 at 1:21 PM
Review by Dhr. M.G. Timmers from Rijswijk
Submitted on: 23-8-2015 at 5:53 PM
Order date: 17-8-2015 at 6:39 PM
Review by Dhr. G. Arts from Amsterdam
Submitted on: 3-3-2013 at 4:27 PM
Order date: 18-2-2013 at 4:03 PM
Review by Dhr. Van Heemst from Monster
Submitted on: 27-10-2012 at 9:52 AM
Order date: 22-9-2012 at 4:03 PM
Vlotte levering, precies wat ik zocht
Review by Dhr. E. Kramer from Utrecht
Submitted on: 14-10-2012 at 12:17 PM
Order date: 28-9-2012 at 4:05 PM
Review by Dhr. E. Vreessen from Leiderdorp
Submitted on: 27-6-2012 at 11:46 PM
Order date: 25-6-2012 at 5:01 PM
Handig dingetje. Wel oppassen met teveel kracht erop zetten want dan buigt het pinnetje wel snel.
Review by Dhr. H. de Hoven from Den Haag
Submitted on: 12-6-2012 at 11:36 AM
Order date: 6-6-2012 at 3:52 PM
Review by Mevr. Vanoverschelde from Brugge
Submitted on: 6-6-2012 at 12:06 PM
Order date: 14-5-2012 at 9:18 PM
Ik ben zeer tevreden over het Benson Trade. Ik twijfelde eerst, omdat het horloge toch wel een redelijke afstand zou moeten afleggen en ik maakte me zorgen om de levering. Het is tenslotte een behoorlijke prijs die men voor een horloge moet betalen. De mailingdienst van Benson Trade werkt zeer snel. Ik kreeg namelijk binnen het uur antwoord op een vraag. De levering gebeurde ook zeer vlot. Het duurde amper 3 dagen vooraleer ik over het horloge kon beschikken! Super!
Review by Dhr. V. Riegaard from Den Bosch
Submitted on: 6-9-2010 at 3:42 PM
Order date: 3-9-2010 at 7:20 PM
Dit standaard stukje gereedschap werkt goed. Kan ook niet veel mis mee gaan.
Review by Dhr. van Eekelen from Hazerswoude-Rijndijk
Submitted on: 15-8-2010 at 10:35 PM
Order date: 3-8-2010 at 1:25 PM
Handig apparaatje om bandjes te verstellen, prima. uitstekende en snelle service, snelle beantwoording van een mailtje.
Review by Dhr. de bruin from hillegom
Submitted on: 24-7-2010 at 10:19 AM
Order date: 12-7-2010 at 1:09 PM
Heel erg tevreden,mooi horloge, snelle reactie op vragen, snelle afhandeling. Helemaal tevreden.
Review by Dhr. Pauwels from Breendonk
Submitted on: 19-6-2010 at 11:03 AM
Order date: 10-6-2010 at 7:26 PM
Ik was zeer tevreden over de snelheid waarmee deze order mij heeft bereikt. Zeer correcte timings worden op de website gezet zodat je perfect weet wanneer het product ten laatste in jouw bezit zal zijn. Het product zelf is een prima tool!! Eindelijk niet meer langsgaan bij de horlogemaker, maar zelf even snel dat bandje inkorten!! Superhandig!! Een tevreden klant extra!
Review by Mevr. T. Joosten from Alkmaar
Submitted on: 16-6-2010 at 7:52 PM
Order date: 15-6-2010 at 1:41 PM
Prima horlogeband inkorter! Tevens snel geleverd!
Review by Mevr. P. Alteers from Riethoorn
Submitted on: 31-5-2010 at 1:30 PM
Order date: 11-5-2010 at 2:19 PM
Simpel product maar erg effectief. Geen gedoe meer bij juweliers en gewoon zelf even doen. Erg handig.