Benson watch boxes, keep your watches safe
Posted on 9 September 2021 at 8:50 AM
Every lover of special watches is of course careful with his or her collection. It is therefore important to choose a good place where you can store your watches neatly, but above all safely. If you have automatic watches in your possession, you can store your watches in a good watch winder, which immediately provides for the energy needs of your watches. If this is not necessary, however, you prefer to keep your pride together in a safe and well-arranged place. Ideally, you should use a nice watch box for this.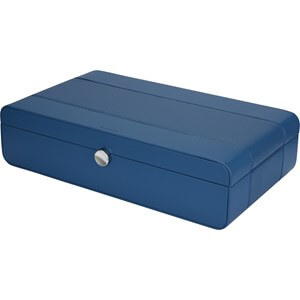 A good watch box is sturdy and offers protection, but the design and looks are important as well. For many enthusiasts and/or collectors, a beautiful watch is not just a tool or piece of jewelry. A special watch is often also a kind of status symbol or collector's item. It is therefore very logical that someone with a passion for beautiful watches also places high demands on a watch box. The preference is often for a watch box that is not only safe, but also has a stylish and luxurious appearance. Watch boxes are available in different price ranges and with various capacities. For example, there are watch boxes on the market with space for storing a few watches, but also watch boxes that are suitable for the real collector, with a large capacity. For example, consider a watch box for 8, 12 or 16 watches.
When you are looking for a suitable watch box, it is worth taking a look at the collection of the Benson brand. Benson is a quality brand from Dutch soil that manufactures both high-quality watch winders and high-quality watch boxes in-house. This means that the brand offers absolute quality and is right on top of it. In addition, Benson is able to market both the watch winders and the watch boxes in this way at an attractive price. When you look at the Benson collection, it becomes clear that a quality watch box with a stylish appearance doesn't have to be expensive. The Benson watch boxes exude a certain class, so that your watches look extra nice. But more importantly, be safe in the watch box.
In the collection of the Benson watch boxes we find the Benson Black Series watch boxes. These different watch boxes serve enthusiasts with a diverse personal taste and/or preference. The Black Series offer very luxurious watch boxes and there is a choice of watch boxes suitable for 3, 8 or 12 watches. For example, as an enthusiast with a few watches as well as a true collector, you can go for a watch box within the Benson collection. The watch boxes within the Black Series have a very luxurious appearance and are made of particularly beautiful leather and available in the colors black, dark brown, blue and carbon fiber. The plain leather is alternated with a processed pattern that gives a playful effect and emphasizes the chic character of the watch boxes. What is also striking about the watch boxes within the Black series is, among other things, the beautiful finish. This is reflected in the fine stitching and the logo printed in the leather.
The luxury watch boxes within the Black Series have a black soft fabric on the inside for optimal protection against damage such as small scratches. With a watch box from the Benson collection, you can be sure that you can always store your watches safely. The watch boxes are designed in such a way that they are also suitable for oversized watches, which means that they are suitable for every enthusiast and collector. In addition, you can close the watch boxes with the existing lock. In short, everything has been thought of when designing these beautiful series of watch boxes.
With the Benson Black Series watch box you choose a stylish and safe solution to store your watches, of high quality. In addition, these watch boxes are very affordable and Benson offers a very good price/quality ratio. These watch boxes are suitable for watches with different sizes. So whatever watches you prefer, you're in the right place with a Benson Black Series watch box.
If you choose to order a Benson watch box from us, you will receive it at home with a 2-year warranty and certificate. As an official Benson dealer, we deliver from stock and have almost every watch box available immediately.
For automatic watches, it is certainly worth taking a look at Benson's extensive collection of watch winders. Benson also offers affordable quality in this area, as well as diversity in capacity and appearance. With every Benson product you are assured of a solid Dutch quality that you will certainly enjoy for a long time.