Mare Unlimited watches with the Rolex look
Posted on 3 September 2021 at 12:57 PM
If you are a lover of Rolex watches we have something interesting for you. If this is completely your cup of tea, but you have a smaller budget, we have a very nice alternative. We are talking about the new watch brand Mare Unlimited. If you are looking for a watch of high quality for a competitive price, then you have come to the right place at Mare Unlimited. The appearance of the Mare Unlimited watches can best be described as stylish and sporty. The Rolex look is clearly visible here. Not only in terms of design, but also in terms of quality and technology, Mare Unlimited has plenty to offer. The price/quality ratio of these watches is therefore very good. Let's take a closer look at the watches of this brand.
The watches from Mare Unlimited are equipped with a Swiss made quartz movement from the Ronda brand. With a watch with a Swiss heart you know that you are buying pure quality. After all, Switzerland is the watchmaking country pur sang. The Mare Unlimited watch cases have a diameter of 40 mm. This makes the models from Mare Unlimited very comfortable to wear. In addition, the watches are lightweight, which also benefits comfort. Moreover, this brand offers wonderful extra functionalities with every model. We are talking about SuperLuminova, a rotating bezel and a screw-down crown. With each individual watch from Mare Unlimited you therefore have a very complete watch, of very high quality for a very attractive price.
The modern models in the Mare Unlimited collection are equipped with quartz movements. These have the advantage over, for example, automatic timepieces that they display the time more accurately and are more resistant to shocks and impacts. What is also striking is the good water resistance of the watches and the use of rubber watch straps. These features, among other things, make the Mare Unlimited watches very suitable for the sporty man.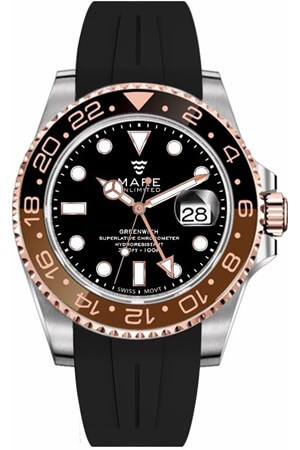 The Greenwich models from Mare Unlimited are also equipped with black rubber watch straps. In combination with the slightly continuous stainless steel case, this gives the watches a luxurious look. The dials of these watches are black with white accents. In addition, most Mare Unlimited watches use one or more accent colors, for example at the bezel. Then think of blue, red, green or gold. For a sporty watch like this, the water resistance of the watches up to 100 meters in combination with a rotating bezel and screw-down crown is an absolute plus. The rubber watch strap is also of added value here, because it is very strong and light. This is of course important when you buy a sporty watch. Furthermore, only high-quality materials have of course been chosen. The sapphire glass, for example, is extremely strong, so that any scratches will hardly be visible. The stainless steel case is also very durable and strong.
We have just mentioned a number of extra functionalities that all Mare Unlimited watches meet. However, the Greenwich models from Mare Unlimited have even more to offer. They have a second hand, date display and luminous indicators. With the GMT function it is also possible to set a second time. This is of course ideal if you travel a lot and very handy on vacation. These beautiful Greenwich watches can be closed with a beautiful buckle.
With a watch from Mare Unlimited you not only have quality on your wrist, but also an absolute eye-catcher. Who is not charmed by the well-known Rolex look? A Mare Unlimited watch is highly recommended for every man who gets warm from a sporty watch that is stylish and at the same time exudes a certain class. But also for the sports enthusiast who is looking for a watch that can take a beating and is also waterproof, Mare Unlimited is definitely worth a look. A Mare Unlimited watch will certainly not just let you down and is very reliable with a Swiss made timepiece. It will always keep you punctual and up to date. The SuperLuminova also ensures that you can easily check the time even in the dark. That can certainly come in handy for the sports enthusiast.
However, are you a watch collector? Even then this is a very interesting brand. After all, a watch with this looks and quality is welcome in every collection. It is generally also quite feasible to add a Mare Unlimited watch to your collection, because of the reasonable prices. Moreover, with a watch from Mare Unlimited you have a real eye-catcher, partly due to the resemblance to the Rolex look and the use of the vibrant colors for the different designs. You will certainly receive compliments when you have your new Mare Unlimited watch on your wrist!
As an official dealer of Mare Unlimited, we supply all models from stock. Each watch comes in a beautiful watch box with manual and a 2-year warranty. Take a quick look at the current collection of Mare Unlimited watches.