Meccaniche Veneziane watch sale
Posted on 28 August 2021 at 2:16 PM
There are watch brands that clearly convey the love for the watchmaker's craft. The Italian brand Meccaniche Veneziane is an example of such a special watch brand. That is not surprising since the brand was created by the passion of two brothers for the operation of the clock. This resulted in the creation of their own watch brand. Meccaniche Veneziane is a young watch brand but nevertheless has a lot to offer in terms of appearance as well as technical aspects.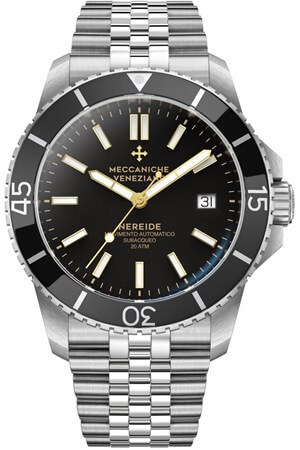 The Meccaniche Veneziane watches are stylish and sporty. The popular Nereide models are most reminiscent of Rolex watches. The quality of the watches from Meccaniche Veneziane can be called excellent, yet this brand knows how to keep the watches affordable, so that many enthusiasts will find the brand extra interesting. Meccaniche Veneziane previously only used the well-known high quality Swiss made timepieces for the production of their watches. Nowadays, the brand also offers watches with high-quality Seiko timepieces from Japan, with which the brand has a positive effect on the price.
The Meccaniche Veneziane collection consists of several series of watches, of which the Meccaniche Veneziane Nereide and Redentore models are very popular. The appearance of the watches is stylish and exudes Italian class. With its sporty and modern designs, Meccaniche Veneziane will appeal to many enthusiasts. An Italian design on your wrist such as a Meccaniche Veneziane Nereide GMT watch will certainly attract attention. The Swiss made Nereide GMT watch series consists of models with a beautiful leather strap in particularly beautiful colors, where the stitching is often performed in a contrasting color. The comfortable leather for these watch straps comes from Veneto and Tuscany. The expertise of local craftsmen is used to manufacture these watch straps, so that each watch is fitted with a top-quality vintage watch strap. You can also opt for a stainless steel strap that is extra strong and fits comfortably around your wrist.
With regard to materials, Meccaniche Veneziane only chooses high-quality materials. This of course includes the just-mentioned leather, but Meccaniche Veneziane also makes use of stainless steel and extremely strong sapphire glass. The watches from the Swiss made Meccaniche Veneziane Nereide GMT series are water resistant up to 200 meters. Furthermore, these watches offer an impressive list of extra functionalities. For example, we see watches with a second hand, date display and luminous indicators. But that's certainly not all, a screw-down crown, rotating bezel and of course the GMT function are also featured. The SuperLuminova that gives light in the dark certainly offers a clear added value.
With a Meccaniche Veneziane Nereide GMT watch, you are definitely opting for top quality. These watches offer you as an enthusiast everything you could wish for and the brand stands for sublime quality. After production, the watches are also extensively tested and checked before they are approved. The Nereide models with Swiss movements also offer the well-known Swiss quality, which has of course proved to be unparalleled. As a brand, Meccaniche Veneziane has always stood for affordable quality. Yet you now have the opportunity to purchase the Swiss made Meccaniche Veneziane Nereide GMT watches at an extra attractive price. This is the last series with Swiss made timepieces and these are now discounted with us. This is therefore an excellent opportunity to acquire a watch of this caliber and quality for an extra competitive price.
Meccaniche Veneziane has an eye for detail and has therefore not only used the hands of the craftsman for the watches themselves and for the watch straps. Even the beautiful watch box that Meccaniche Veneziane is known for is a sight to see. These wooden watch boxes are made by a traditional woodworking company in Friuli and are a true work of art in themselves. In short, with a watch from Meccaniche Veneziane you give yourself a beautiful gift, which you will enjoy for many years and will certainly receive many compliments!
In addition to the particularly beautiful Meccaniche Veneziane Nereide GMT models, we, as an official dealer of Meccaniche Veneziane, offer many other beautiful watches from this Italian brand. For example, several other Nereide models, but also, for example, the Redentore series by Meccaniche Veneziane is well represented with us. It is therefore certainly worth taking a closer look at the collection, especially if you like a watch that is stylish and has a sporty touch.
We sell out the entire collection of Meccaniche Veneziane. This means that every watch is on sale with a nice discount, while supplies last.
When you decide to order a Swiss made Meccaniche Veneziane Nereide GMT watch from us, you will not only receive a top quality watch, but also a nice discount and, as icing on the cake, a beautiful wooden watch box. In addition, the watch comes with a 2-year warranty and a clear manual in the form of a booklet. So choose your favorite Meccaniche Veneziane watch now and order it easily and quickly in our webshop!