Chronovision watch winders for Rolex and Breitling
Posted on 28 November 2019 at 2:53 PM
There are various types of watch winders on the market, each with a certain quality and price, appearance and any technological benefits. Chronovision watch winders are made in Germany and this brand offers a beautiful collection of watch winders that wind up any automatic watch without any problems. Regardless of whether you have a Rolex, Breitling, IWC, Patek or Tag Heuer watch.
Chronovision watch winders offer German quality. German quality is known for being durable and reliable. The watch winders of this German brand are handmade in Germany and are also equipped with German motors. These motors are low-sound for optimum user comfort. The materials with which the watch winders are made are all from the Sauerland region. The approach of this German brand has always been to combine the good features of the various watch winders on the market and at the same time to find a solution for existing problems and disadvantages of these watch winders. With this, Chronovision knows how to distinguish itself from the various other watch winder brands that exist.
In terms of technology, the brand offers various advantages such as a bluetooth function, LED lighting and the possibility to set the direction of rotation and the number of revolutions per day. In addition, the watch winders from Chronovision are suitable for any automatic watch, regardless of brand or type.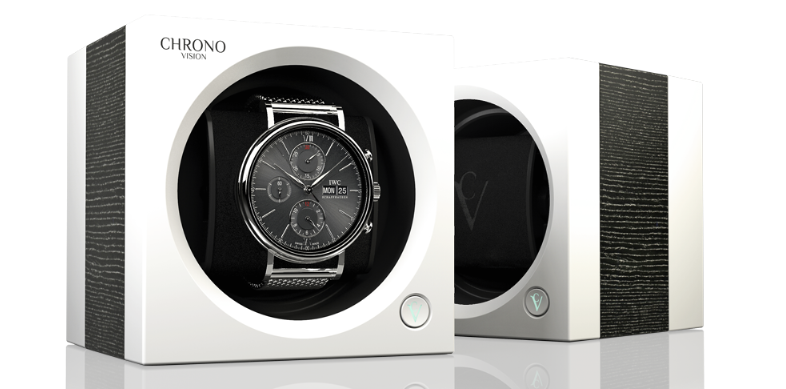 In addition to high technology and high quality, the design is as important as well. The appearance of the Chronovision watch winders is modern and the designs are compact. For the various designs, attractive materials such as wood, aluminum and glass were used for a luxurious look. Chronovision has watch winders in their collection with different capacities. There are watch winders with space for 1, 2, 3, 4, 6 and 8 automatic watches. The various beautiful designs all have a modern look and at the same time, the various series in the collection each have their own unique look. For example, there is a suitable watch winder for every collector or enthusiast of automatic watches.
In our webshop you will find a very wide collection of Chronovision watch winders. When you order a Chronovision watch winder from us, it comes standard with a three-year warranty and user manual. As an official dealer, we offer you originality and security. Do you have a question about this watch winder brand? We are happy to help you.