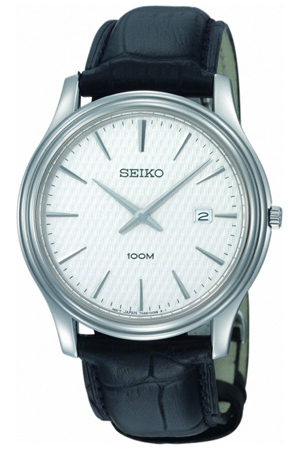 Seiko
Premier SKP349p1
Seiko knows how to combine technique and modern designs in splendid men watches as well as in lady watches. Seiko technique is known worldwide for its reliability and its functionality. By using Kinetic technique Seiko is one of very few brands able to get so much energy from movements. The ultimate personal comfort makes that only a few Seiko owners take off their watches during the night, though I say it who should not?!
| | |
| --- | --- |
| Water resistance | 100 meter / 10 ATM |
| Movement type | Quartz (battery) |

Official dealer
BensonTrade is official dealer of many brands.
Free shipping
Your order will be shipped for free within The Netherlands.
30 day trial
Tryout your watch or watch winder for 30 days? No problem!
Discount system
Save between 5% and 12,5% on your next order!
Show shipping rates for:
Free via DPD (1 business day)
€ 7 insured via DPD (1 business day)
+ 1 year extra warranty: + € 30
Delivery time
1 to 3 business days
product eigenschappen en specificaties
Specifications
Men's watch
Weight:
80 gram
Buckle type:
Deployment buckle
Water resistance:
100 meter / 10 ATM
Glass material:
Sapphire glass
Strap colour:
Black
Strap material:
Leather
Case depth:
7 mm
Size case:
40 mm
Case material:
Stainless steel
Dial colour:
White
Movement type:
Quartz (battery)
Additional functions
Date function:
Yes
Second hand:
Yes
Packaging and shipping
Packaging:
Luxury official watchbox
Jewellers price:
289 €
Manual:
Yes, manual
Warranty:
2 years
get 5% discount on a watchwinder or accessoiry when you buy this watch
Benson
3.13.O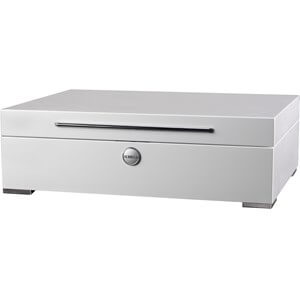 Benson
WB.8.17.W
Review by Dhr. P. van Hamme from Wachtebeke
Submitted on: 31-1-2012 at 7:24 AM
Order date: 24-1-2012 at 12:39 PM
Mooi Seiko uurwerk en vlot afgeleverd.
Review by Dhr. de Vries from Raerd
Submitted on: 1-12-2011 at 7:39 PM
Order date: 17-11-2011 at 9:53 PM
Goed, een nederlandstalige gebruiksaanwijzing zou een pr? zijn
Review by Mevr. L. Langendaal from Roermond
Submitted on: 13-6-2011 at 2:11 PM
Order date: 31-5-2011 at 8:36 PM
Via google kwam ik bij jullie uit. Ik had een bepaald horloge voor ogen voor mijn man en vond deze bij jullie, bedankt.
Review by Mevr. W.L. Driessen from Groningen
Submitted on: 17-3-2011 at 3:02 PM
Order date: 11-3-2011 at 9:34 AM
Er zijn hier niet zoveel horlogewinkels in de buurt en dus ben ik op internet gaan zoeken voor een horloge voor mijn man. Ik kwam jullie tegen en jullie verkopen ook Seiko. Mijn man wilde al langere tijd een goed Seiko horloge. Na betaling kregen wij het horloge snel bezorgd. Keurig op tijd en in een stevige karton.
Review by Dhr. T.P. Rekers from Almelo
Submitted on: 12-3-2011 at 3:33 PM
Order date: 4-3-2011 at 12:14 PM
Ik was op zoek naar een eenvoudig horloge zonder veel uitbundigheid en kwam op jullie website terecht. Seiko heeft altijd al een goede naam gehad dus heb ik gekozen voor dit model. Ik draag hem met veel plezier!